Annapurna Circuit and Poon Hill combo
by Monika Suchoszek
We arrived in Kathmandu on the first of March and found ourselves jet-lagged and in the middle of the Holi festival, Nepal's most colorful holiday! It happened by accident, so we were totally shocked at the beginning and not ready for what was coming :) Before we even reached our hotel, a thick layer of colorful powder covered our faces and shoulders :p This day we also walked to the Nepal Tourism Board to get our permits (more info), passing many parties, full of colorful, dancing people. In the whole city you can feel the atmosphere of festival, shops are closed, people are blessing each other with colorful powder, shouting: Happy Holi! Nowadays kids throw small balloons filled with water on passers what I experienced on my own skin few times :p Luckily, we got our permits on the spot and immediately bought bus tickets to Pokhara and headed there next day morning.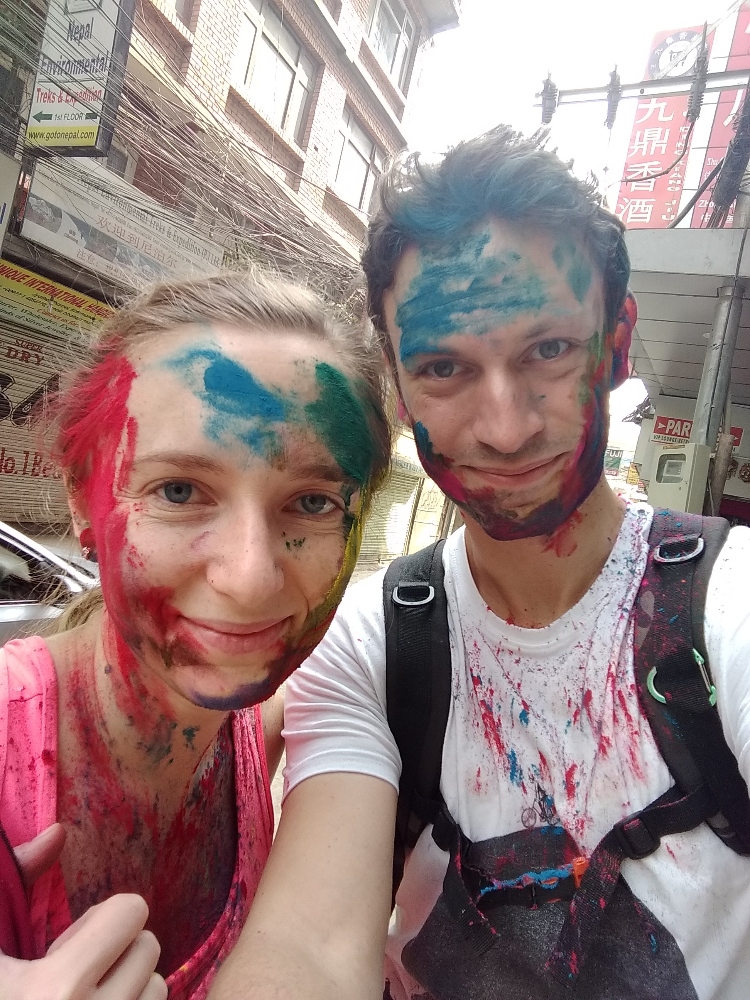 The first bus ride to Pokhara immediately showed us the reality of bus transportation in Nepal. Don't count on internet, don't look for a bus which was demonstrated you on the photo in the ticket office. Best to show your ticket to random bus drivers and finally someone will point you to an old, decrepit, local bus where you will have to sit for the next 7h … at least this time we could sit ;) The road from Kathmandu to Pokhara is in pretty bad condition, partially asphalt is missing what means it is shaky and dusty. So better take a pill if you suffer from car sickness. Fortunately, we had breaks for breakfast and lunch so we survived this ride in a pretty good shape. After one night in Pokhara, small, last-minute shopping and the next day, early morning, we headed to Besishahar where our hike started. We didn't get out off the city without problems, our bus was overcrowded (something like double amount of people for the number of seats) and we had to stand the whole 4.5h drive, squeezed in a filthy bus where Sebastian couldn't even stand straight because of his height (1.88 m / 6'2") :O After we finally arrived to Besishahar it was definitely time to start the hike in a nice, clean environment and far away from the buses. The first part to Bhulbhule was not tough, the path lead through a few villages and past our first suspension bridge. While the terrain is rather flat it was pretty warm what made us feeling exhausted at the end of a day nonetheless. We quickly found a wooden guesthouse with view on the river, however the next day we discovered that actually the village is stretched a couple hundreds meters further with nicer looking options to sleep further away.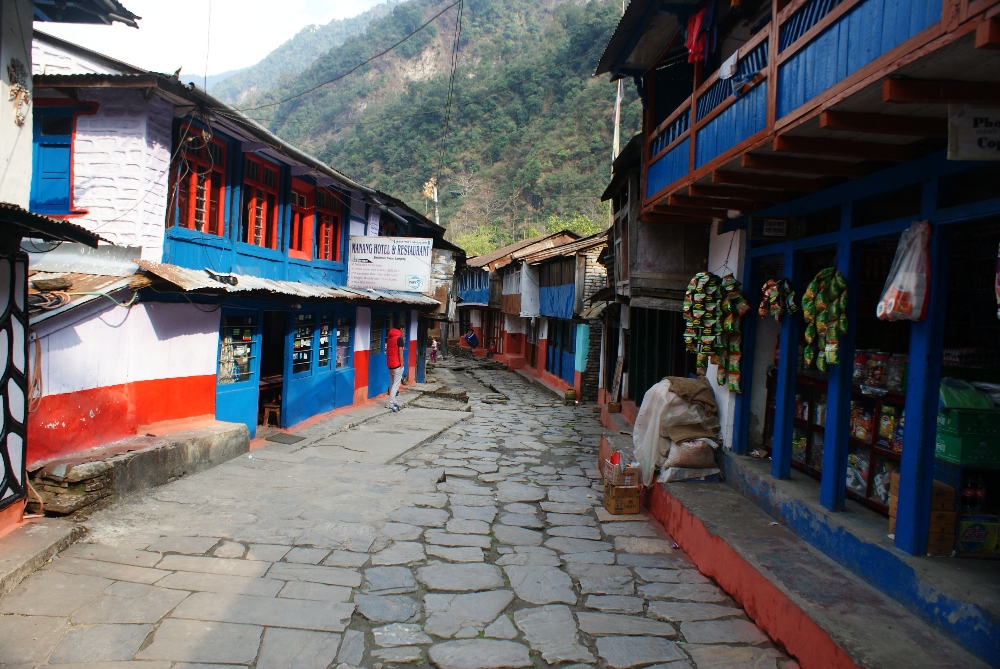 We didn't meet many hikers on the way because (as our host told us) most people take a jeep right up to Chame (2690m), skipping the first 3-4 days of the trek. They maybe save time but definitely lose the opportunity to observe the transition of the landscape and, by ascending that fast, many of the them later struggle with high altitude disease (actually Manang is the furthest village which can be reached by jeep).  We were following the red and white signs indicating the Annapurna Circuit trail, taking us away from the dusty road and leading across the tiny villages (quite often adding extra elevation to go through in comparison to the road). On our second day to Jagat, we admired blooming trees, rice paddies and banana trees along the way.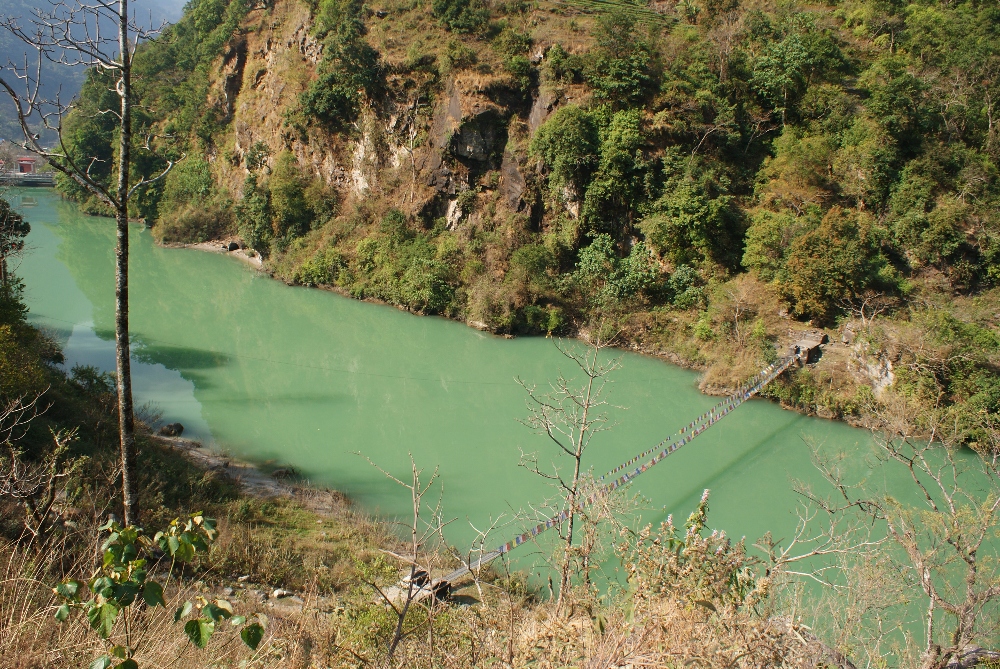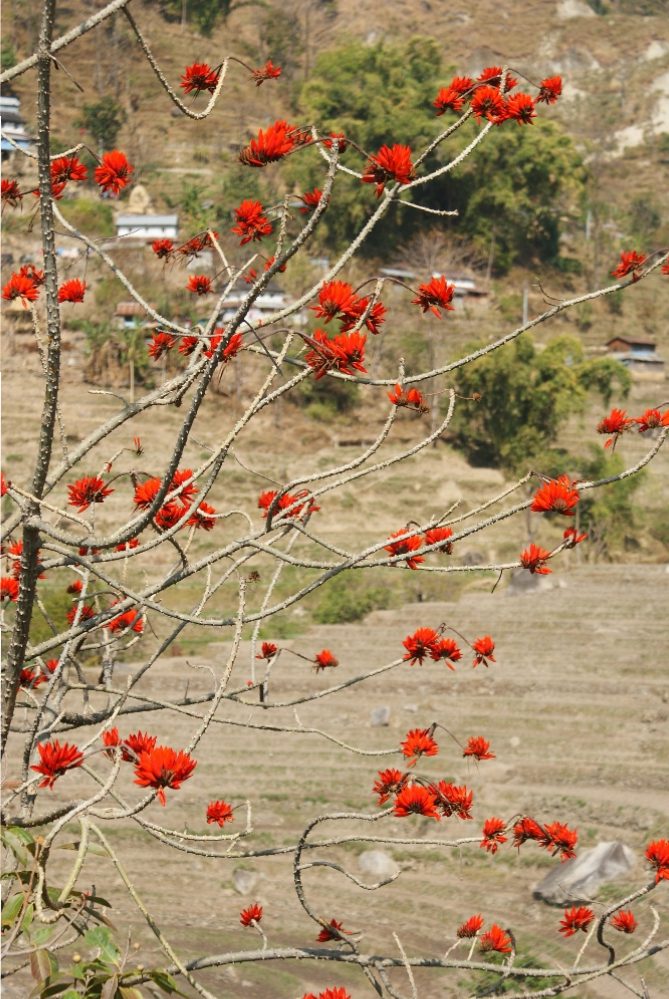 The first drops of rain begin to fall as we reached the village Jagat and during the whole night heavy rain was hitting the metal roof making it very hard to sleep without earplugs :p To our astonishment, the next morning was beautiful, no clouds or any marks after night's rainstorm. This day was tough, first a steep descent, then long ascent on a very rocky and steep path and again descent to one of the prettiest villages on the trek, Tal. Full of colorful guesthouses, localized next to the sandy riverbanks, made us feel we want to stay there overnight, but we stuck to our plan and went further to Dharapani.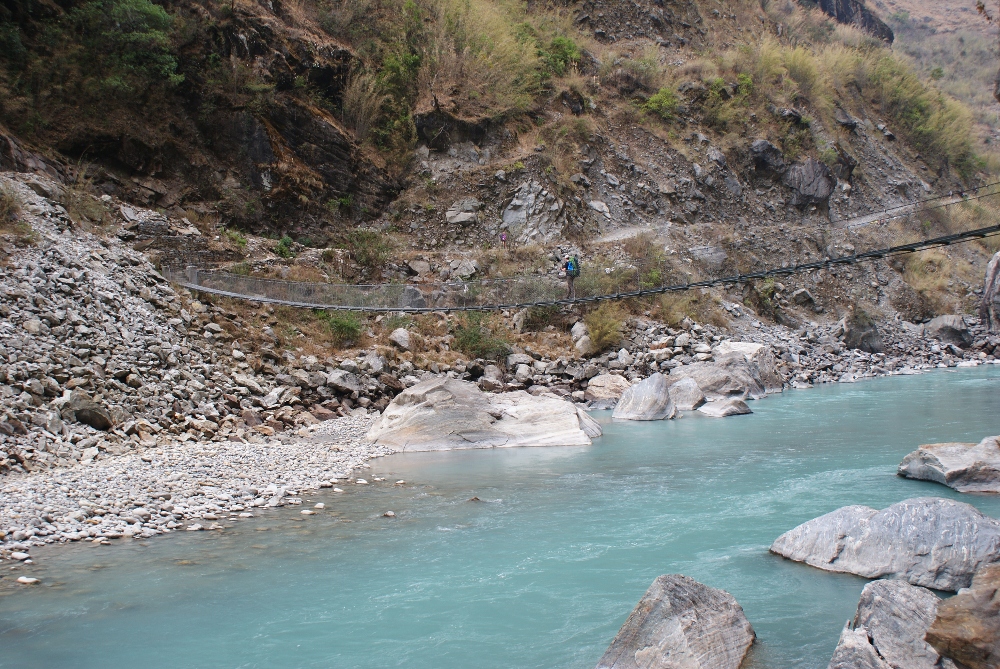 Our efforts were rewarded with a very nice room, delicious food (Heaven hotel, next to the suspension bridge). This was also last day with internet access and the last warm night during this hike. After another rainy night, a beautiful morning motivated us to leave early. This day was very pleasant, for the first time we could see majestic, snow-capped peaks, among them Manaslu (eighth highest mountain in the world).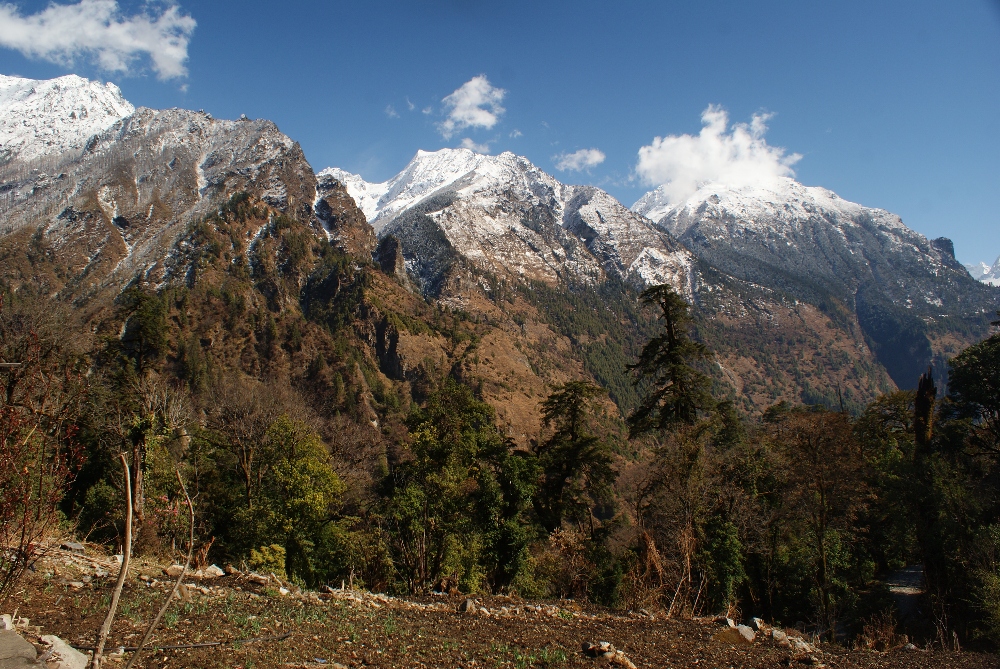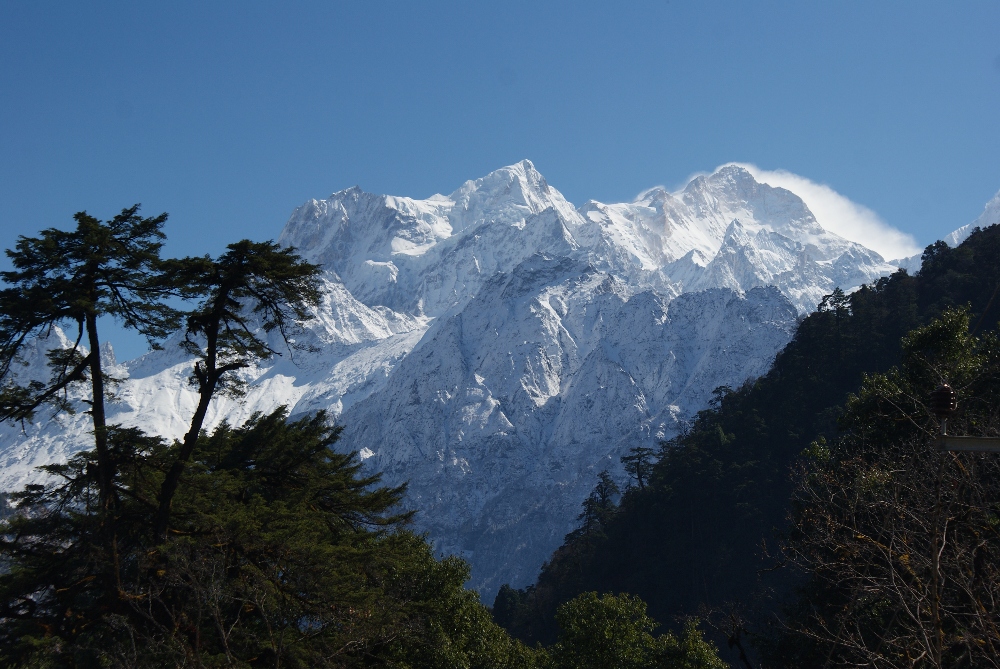 We were slowly gaining altitude the whole day with only few very steep parts in the woods. Passing tiny villages and quiet coniferous forest was so relaxing! :D After we found a hotel in Chame we took a walk around the village and noticed piles of empty plastic bottles lying in the stream. We also noticed in the evening that our host is burning plastic trash in the oven of our dining area, emitting highly toxic chemicals and it was not the only place we saw this happening. It would be great if all hikers took responsibility for this issue and carry their own plastic garbage back to Pokhara as we did. Tourists should be aware of this problem since we can all play a role in reducing plastic pollution.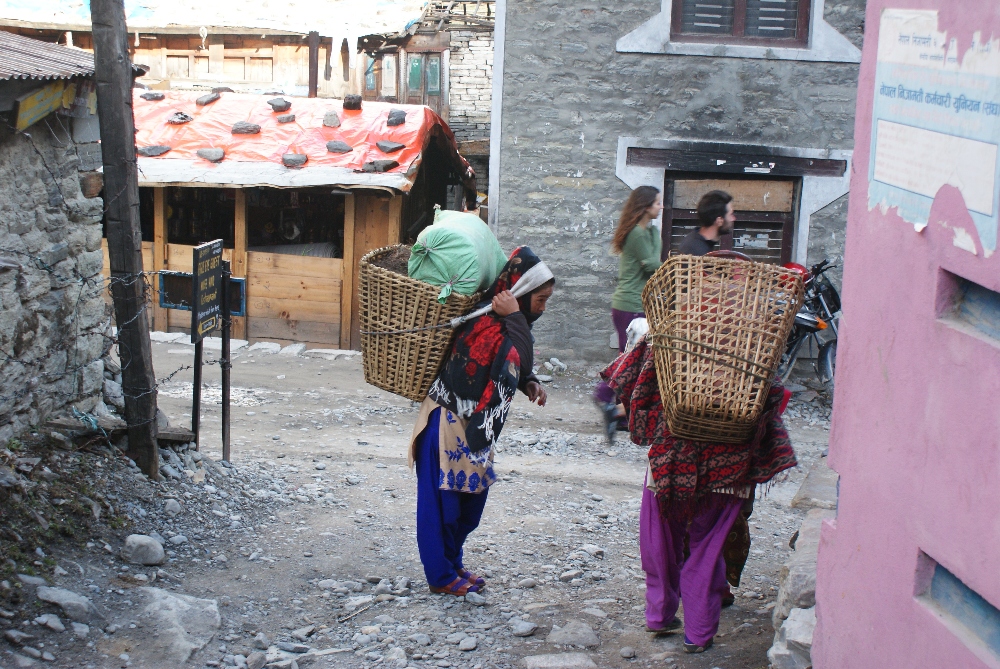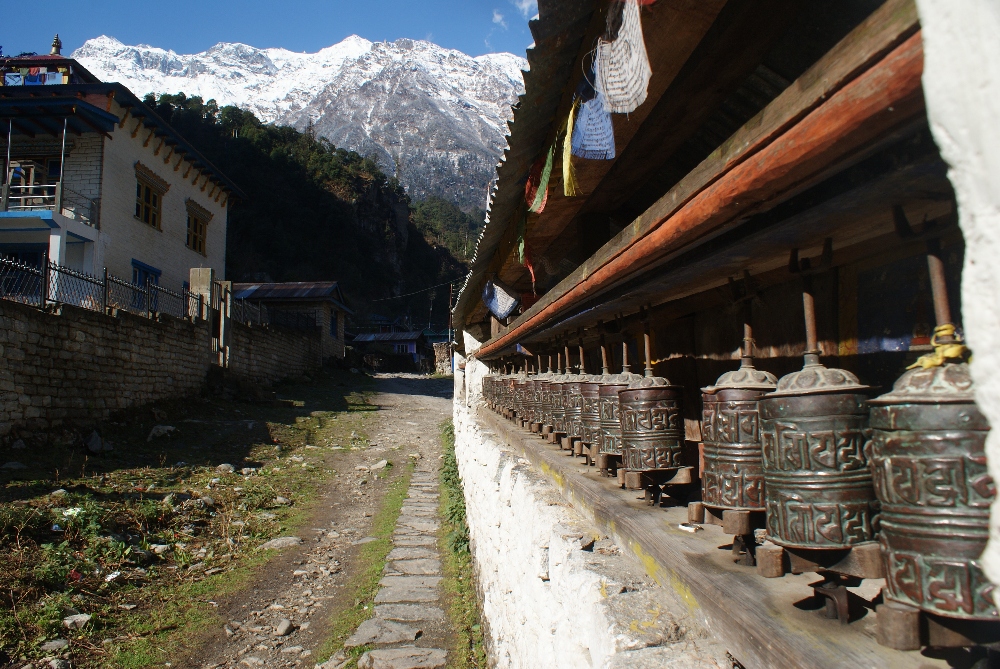 The next day, on the way to Upper Pisang we noticed a higher number of hikers as this is the starting point for most tourists doing the Annapurna Circuit. Cloudless, blue sky above us and a crystal clear stream below made this part really pleasant. The rocky slopes were carved out to make room for the road, creating interesting overhangs to walk under. At one point you can choose between a road leading to Lower Pisang and path leading to Upper Pisang, the second one was our choice. During this part we could finally admiring the stunning Annapurna massif with peak Annapurna I, the first of the eight-thousanders to be climbed (French team, 1950). Polish climbers, Jerzy Kukuczka and Artur Hajzer made the first winter ascent of Annapurna I in 1987. We decided to stay in a wooden house with the view of Lower Pisang and Annapurna. The whole place looked quite new, however one layer of wooden panels without any insulation made our night rather cold.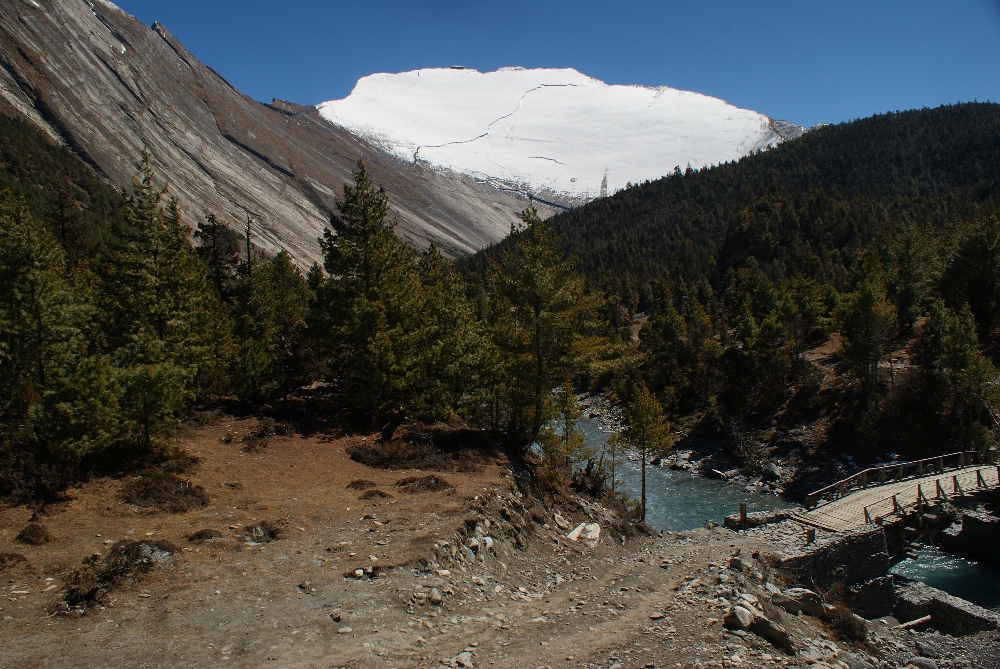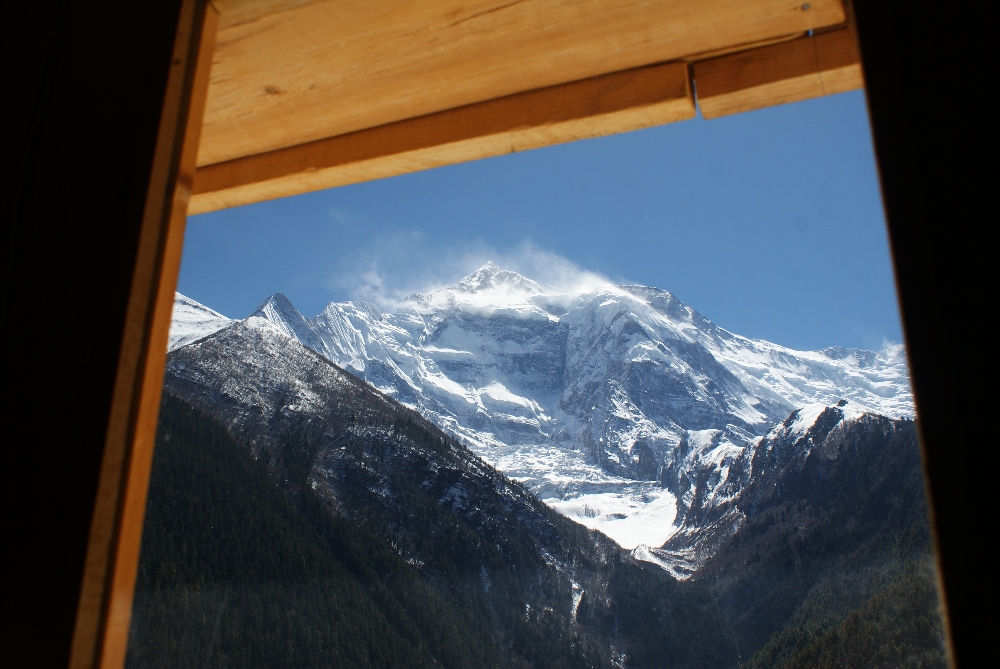 There are two ways to reach Manang from Upper Pisang, the lower route along the road and the upper one which is way more demanding but you will be rewarded with scenic views from Ghyaru village (3730m). For the first time I fell far behind Sebastian, while carrying a heavy backpack up steep paths he has an advantage. Indeed, the panoramic view was breathtaking, many people decided to have a break at the viewpoint and so did we.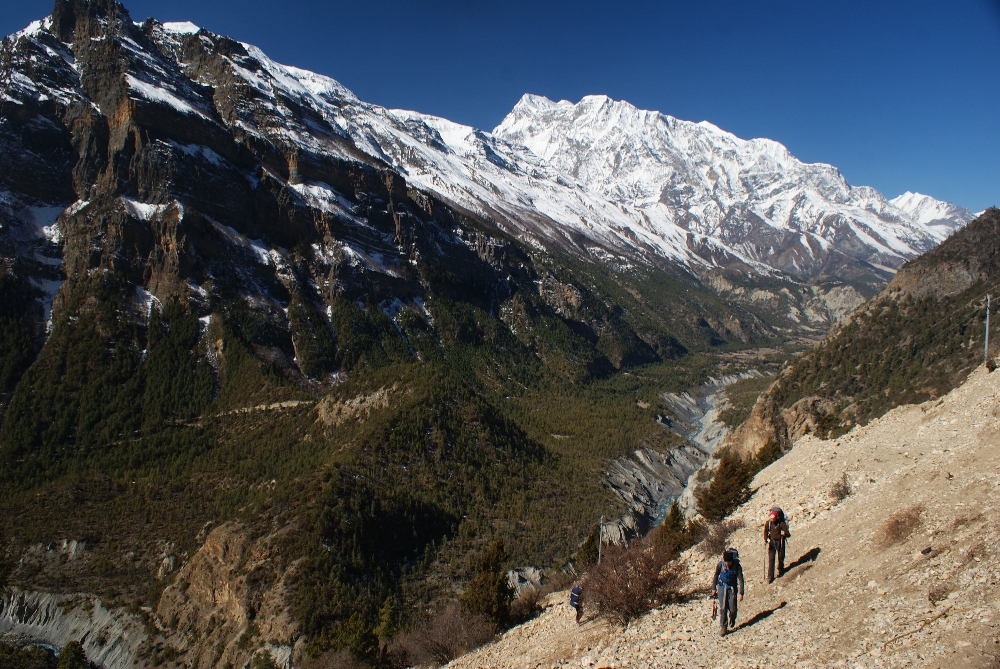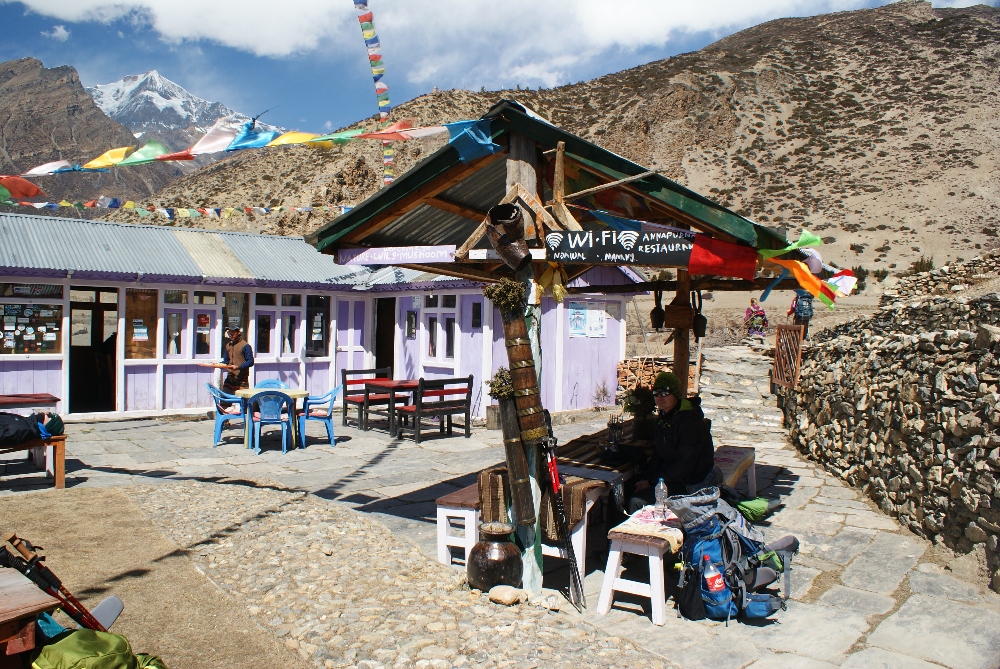 After the Ghyaru village it wasn't that difficult anymore, at one point the path started to descent, it got more dusty and softer on the path. Very close to the destination for that day, we passed another village, Bhraka where path to Ice Lake begins and some people decided to stay here. We went further towards the bigger village, Manang were decided to stay 3 nights. We made a good choice about the accommodation (Royal Manang Hotel): caring host, tasty food and warm dining room was exactly what we needed. To acclimatize better and avoid high altitude disease, we made day trip to Ice Lake (4600m), however only reached the Tea House on 4200m. It was a mistake to not take a hiking poles, small rocks on that steep hill were pretty annoying. It is definitely worth to try this path since the views are just amazing! At one point, two wolves flashed behind the trees, we were thrilled but also a bit scared :)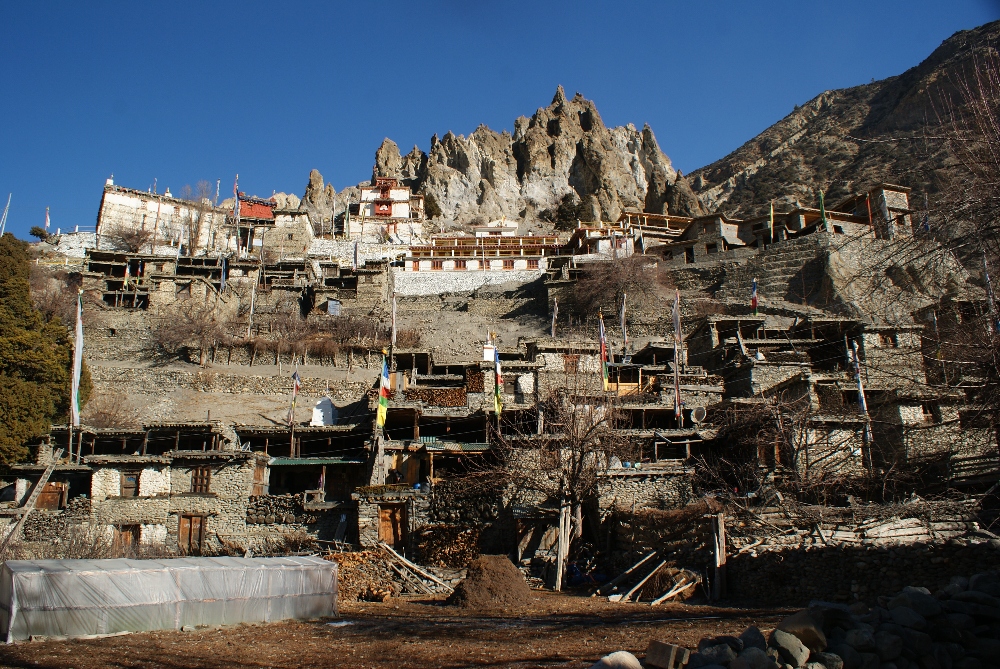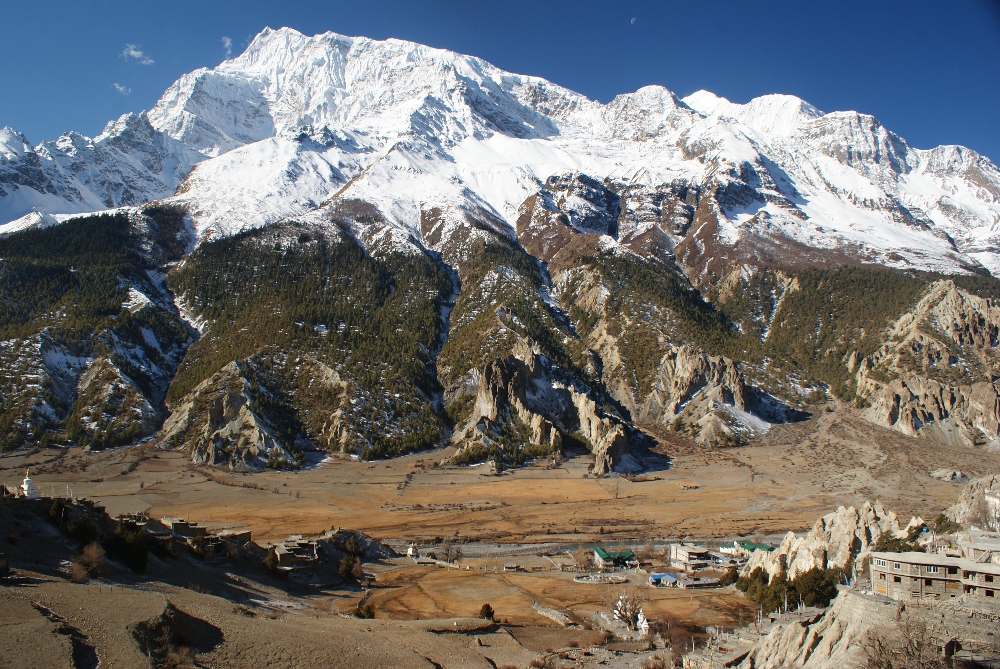 The next day was a resting day to gather energy for the final part. Sitting outside in the sun with our books and short walk to the nearby lake were our only activities that day. In Manang there is a check point with the weather forecast, however not very useful since the predictions cover a very big part of the region and are updated once a week :p Additionally, officers didn't know what the conditions on the Thorong La Pass were, they don't have contact with the High Camp at all. It seems a simple radio to communicate could easily increase safety in case the weather get worse. It was around -12°C at night and -2°C during the day during our stay. There are also few shops with hiking equipment and few bakeries with delicious, fresh rolls.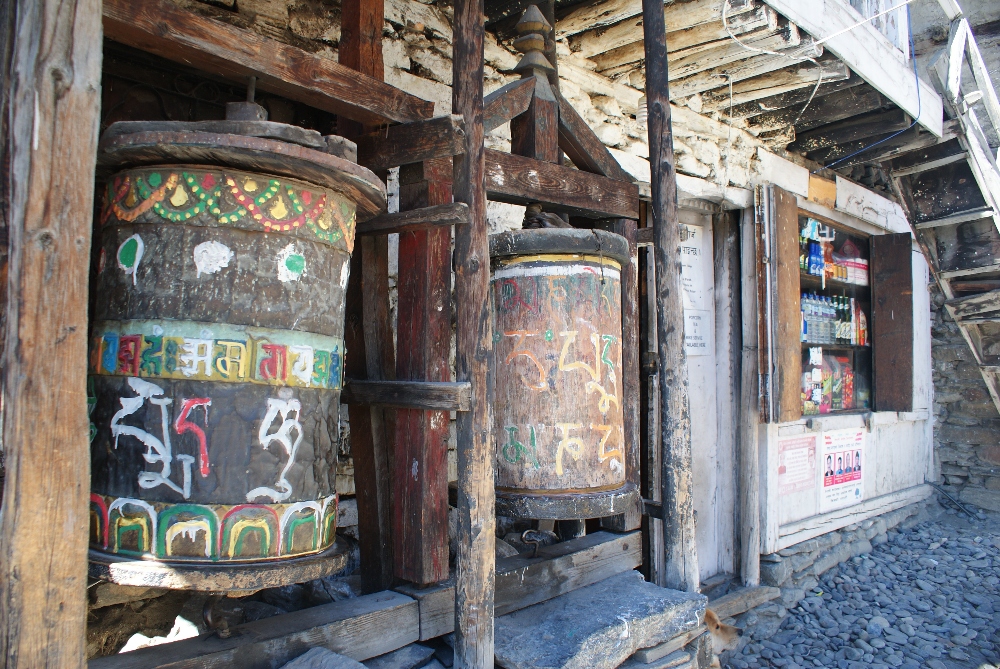 Next morning, we headed off to Churi Ledar and stayed there one, very cold night :p This part of a trek was not very difficult and not very long so we took it slowly. We were passed by many donkeys/mules/horses, carrying food to the higher shelters.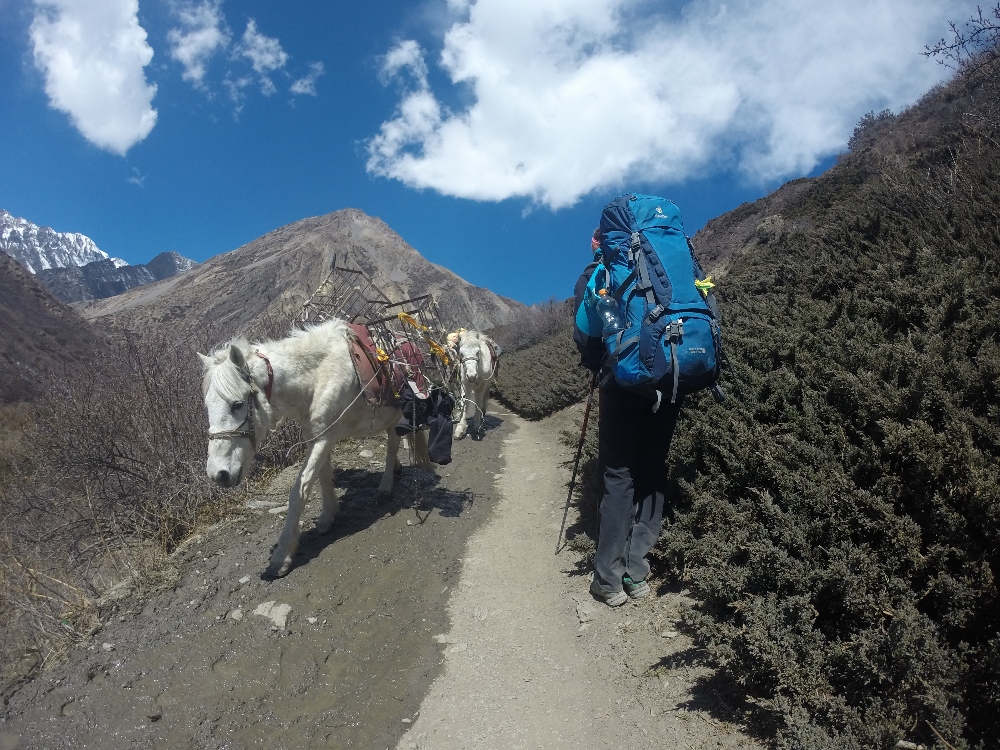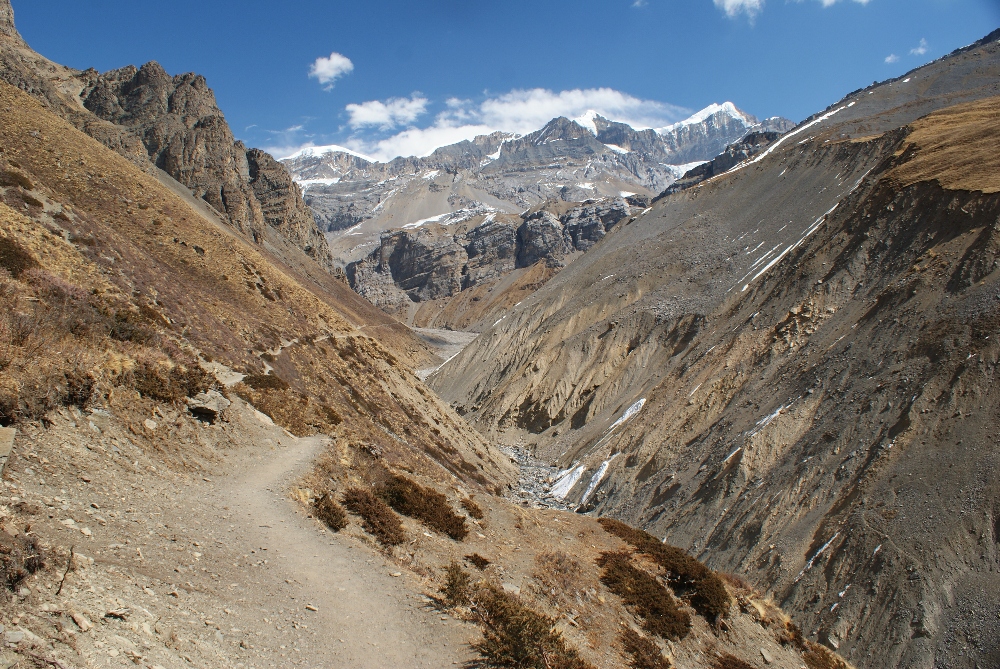 Since we did not have any symptoms of high altitude disease our decision was to go to the High Camp next day and see how we feel (ascent 600m). We simply did not want to spend an additional night in these low temperatures :p First, the path was going constantly up and down, so we needed about 2.5h to gain 300m altitude. Then we stopped for lunch in Thorong Phedi village (the Low Camp) where most people spend an additional night.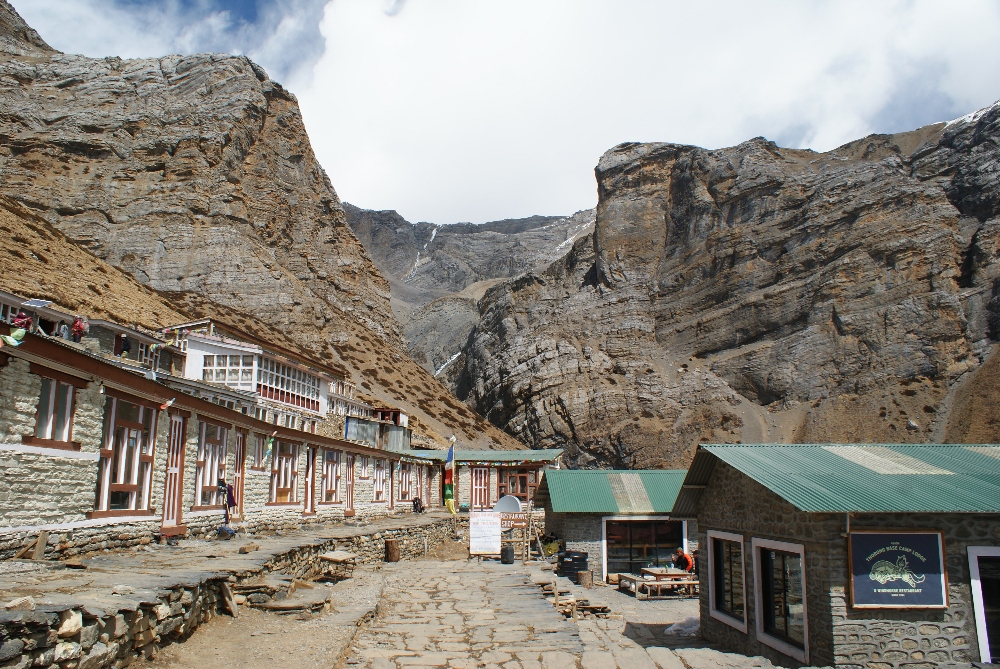 We realized that ahead of us is a 300m ascent on a very short section what means really steep slope. And indeed, the zigzag path wore me down arriving at the shelter feeling drained. Sebastian on the other hand was having a great day (how frustrating it was!). That day I could really notice that we did not have a porter but I feel better carrying my own stuff, the achievement feels more complete. High Camp consists of few buildings which belongs to one owner and a big dining room where we spend the whole evening, trying to warm up next to the stove.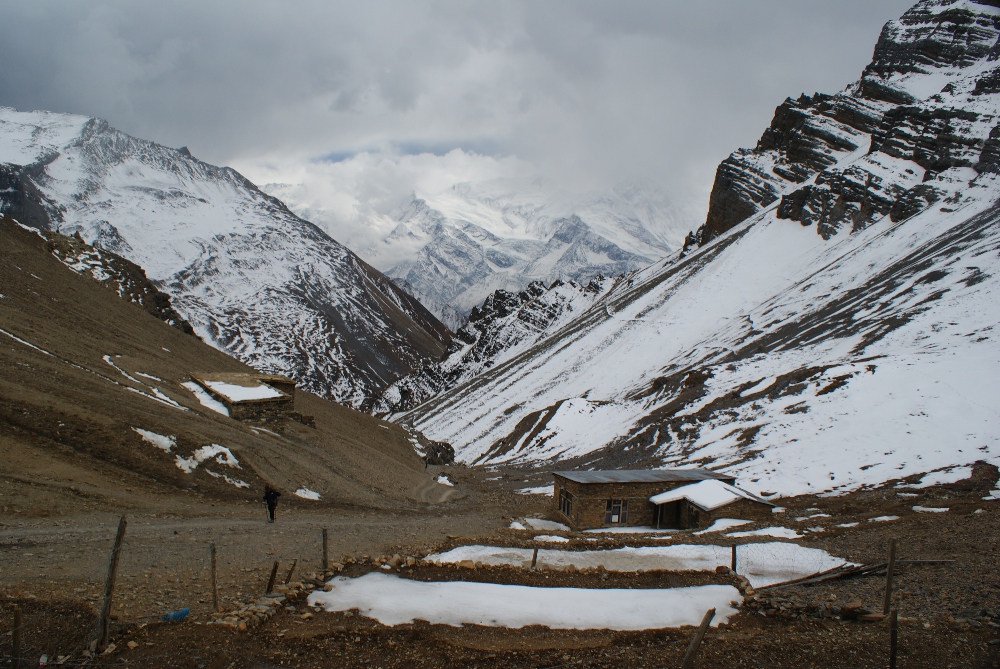 We ordered breakfast as early as possible (6am) and decided to start the most important part of the hike straight after. There were many icy spots around the camp in the morning and the remaining snow was hard, making the path very slippery and dangerous. We had to be really careful while traversing the slopes and using our hiking poles for balancing. The path ahead of us did not look very steep but it was demanding because of the altitude and our backpacks. Finally, the small shed appeared on the horizon and we knew that was tiny tea shop at Thorong La Pass. We made it, 5416m this is the highest pass we have ever been on! :D Somehow, it did not feel like a great achievement, too many people around us … what always takes away some of the beauty of being alone in the mountains. Going through the pass is not as exciting as reaching a peak … so I need a tougher goal next time :D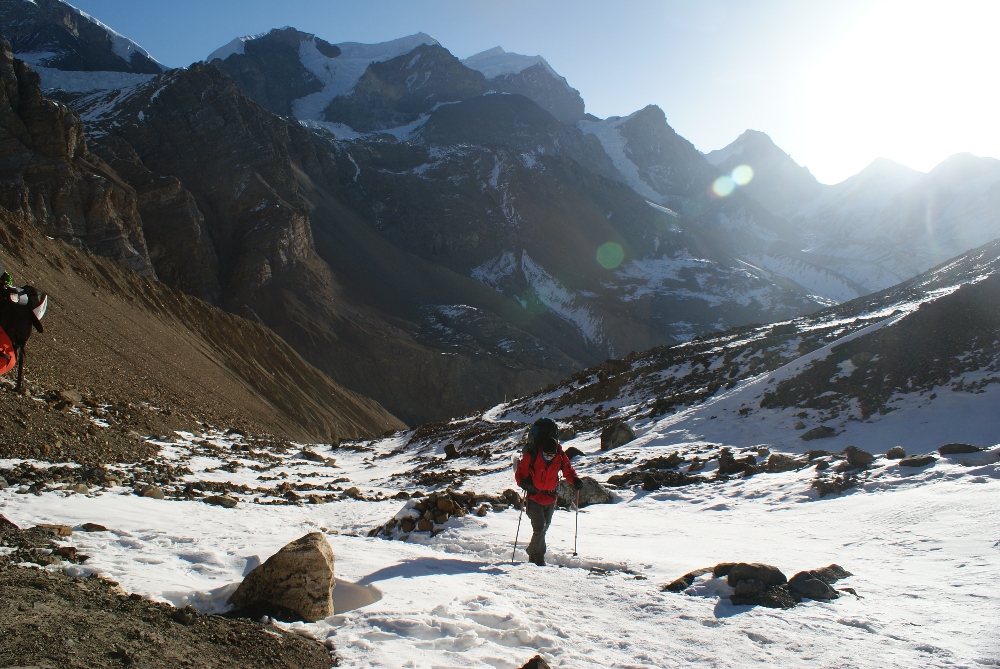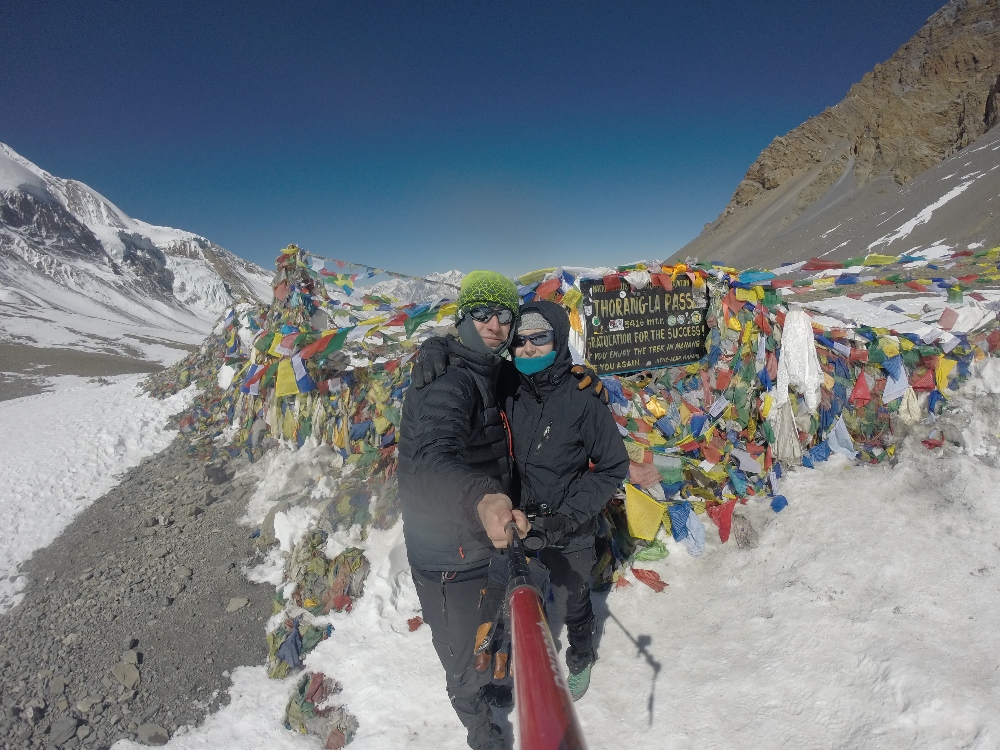 The way down was stretching forever, first dangerous patches of ice, then loose rocks kept us constantly tense, trying not to fall. The landscape changed dramatically, red and brown as a dominent colors, very dusty and no vegetation around.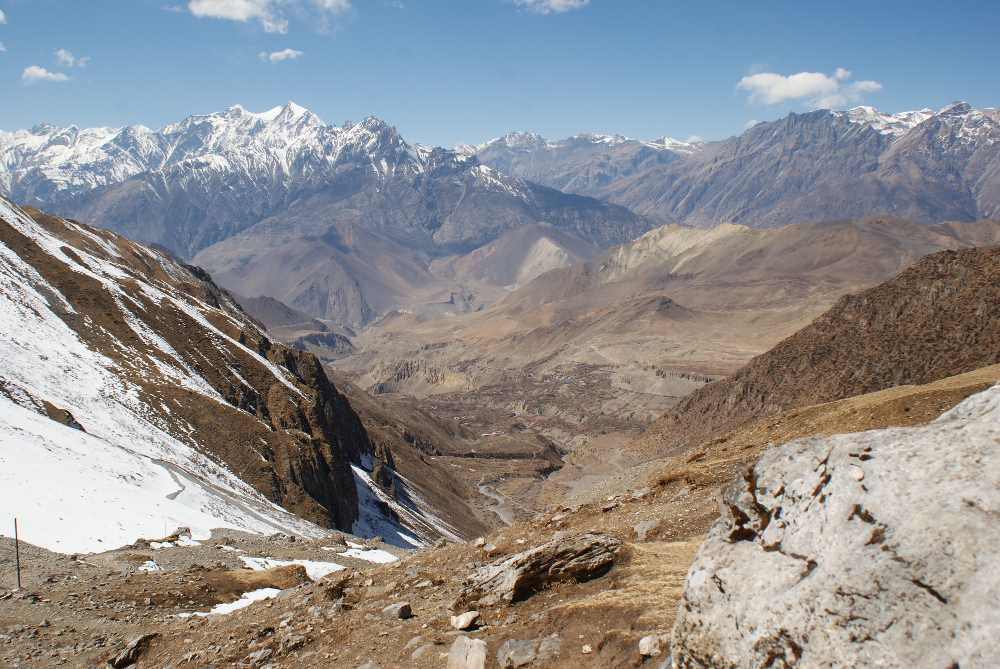 In Muktinath, we stayed in the guesthouse close to the bus stop where we could finally took a warm shower and use the internet to catch up with our families. Next morning, after waiting more than 1 hour for a bus, we finally got on one going to Old Jamson, from where we walked the last 6km to our destination, Marpha village.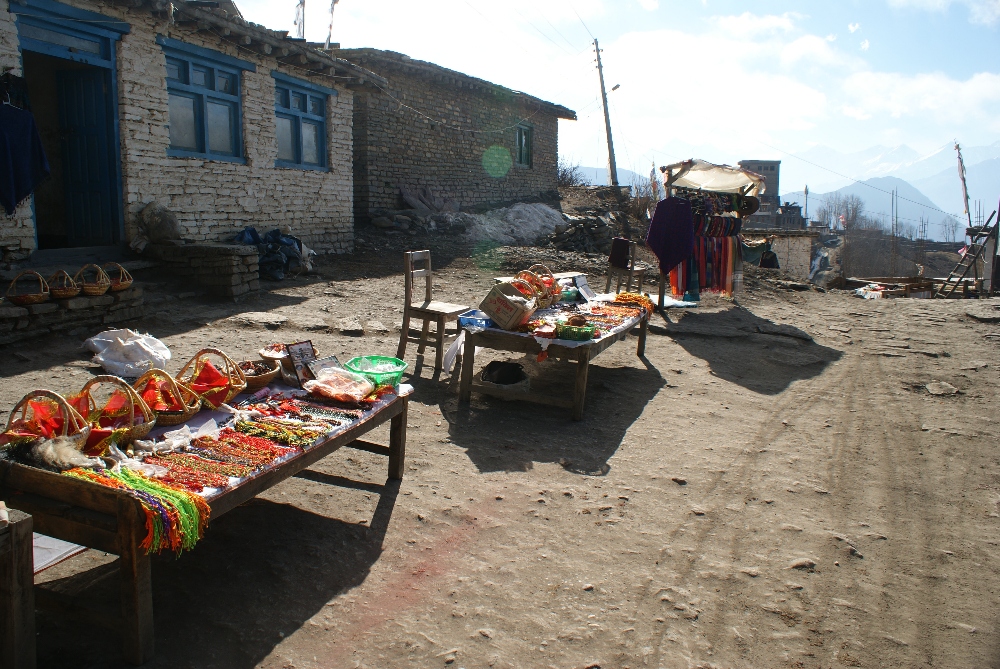 The path was covered with deep layer of dust and every time some jeep passed the huge cloud of dust covered us what made this walk really unpleasant. In contrary, Marpha village was really relaxing, very narrow paths inside and sanctuary on the hill. The young monks opened the main praying hall for us which was covered with colorful pieces of fabrics. We admired the view of the village and noticed many people using their flat roofs as a terraces.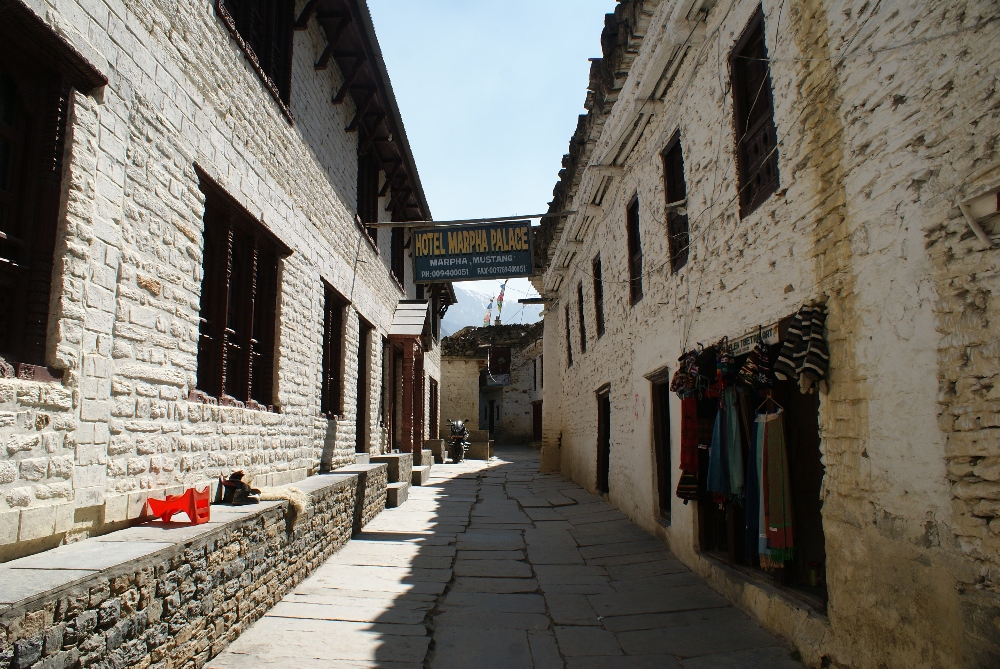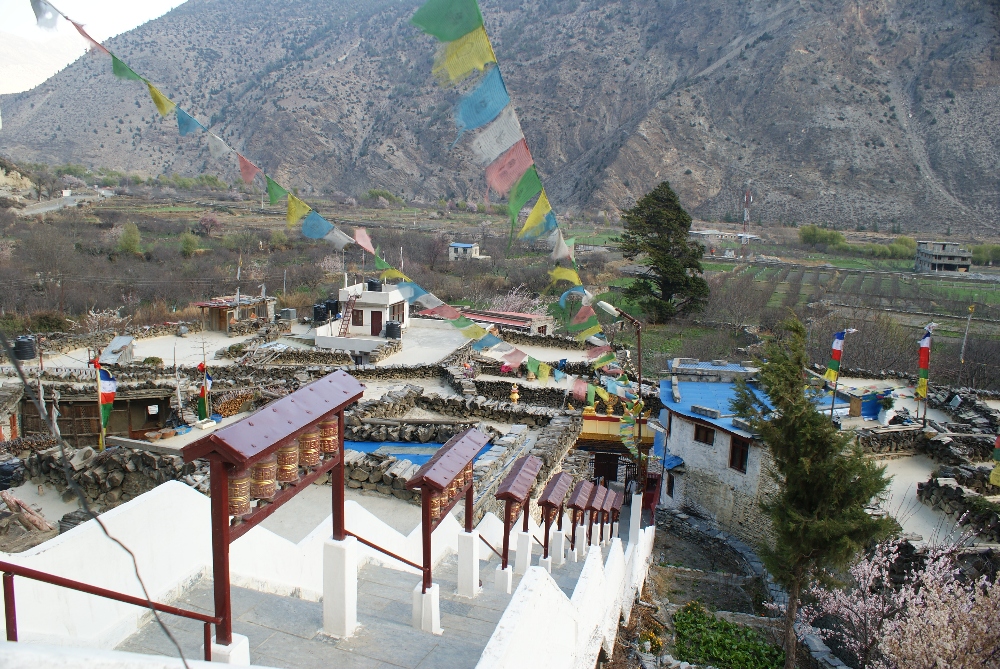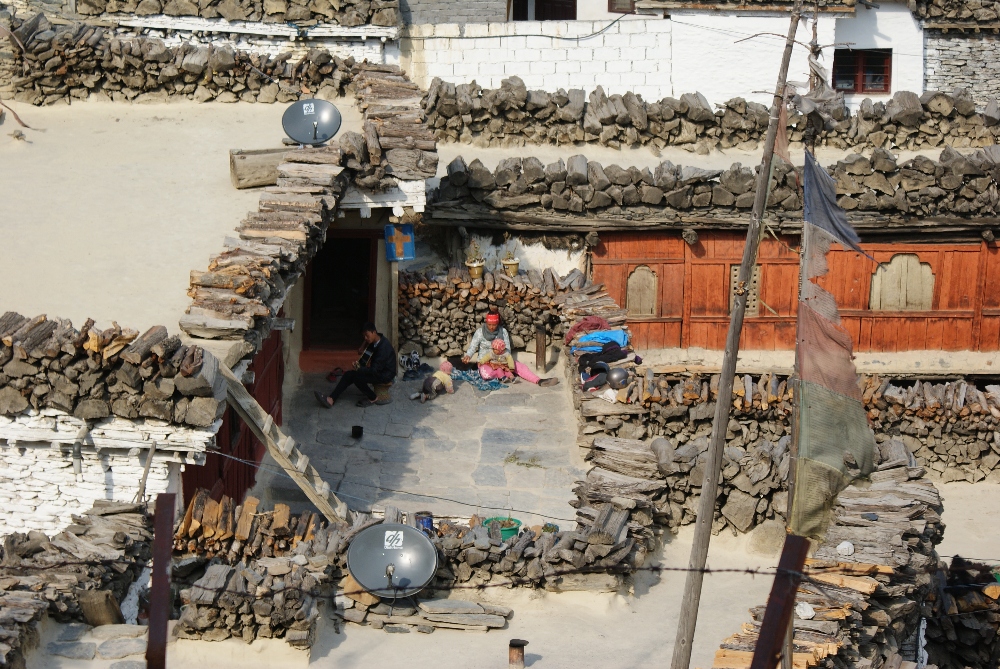 This region is famous for locally produced apple and apricot juice but also offers other products like cider, jam and cakes. It was a great place for a rest.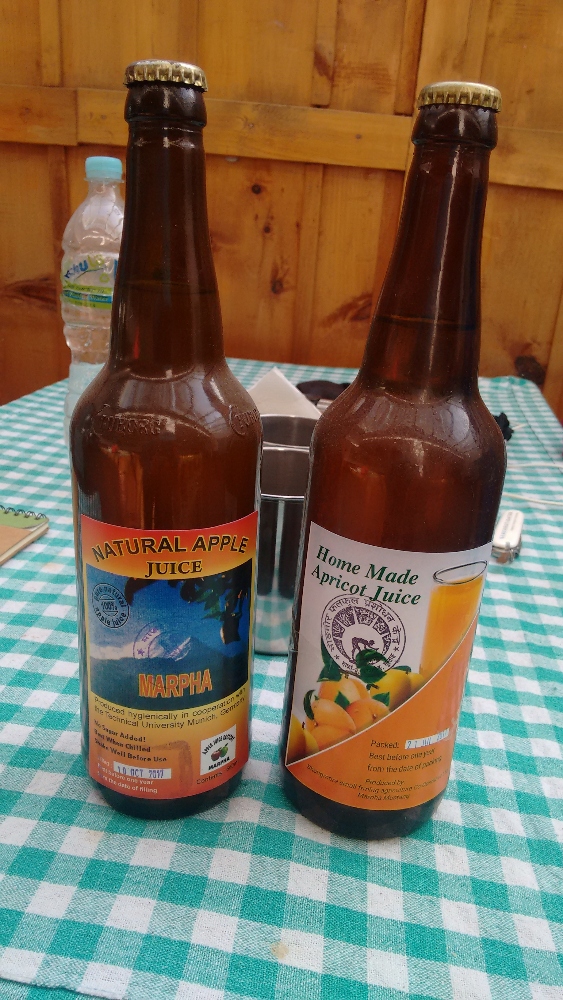 Instead of walking down the valley the next few days we decided to take a bus to Tatopani (5h) and start the very popular Poon Hill trek from there. Tatopani is surrounded by orange trees and many flowers which make it looks really pretty! There are also hot springs nearby what makes this place a perfect spot to chill out, however we only had a lunch there and started our walk to Shikha. After passing the village and crossing the river, the main path began, endless steps made with huge rocks  were ahead of us, constantly crossing  a dusty road for jeeps. It was already late afternoon and the first drops of rain reached us. An approaching storm? We decided to play it safe and stop in Braha (a village 2km before Shikha) where the options for accommodation are really limited so we don't advise you to stop there.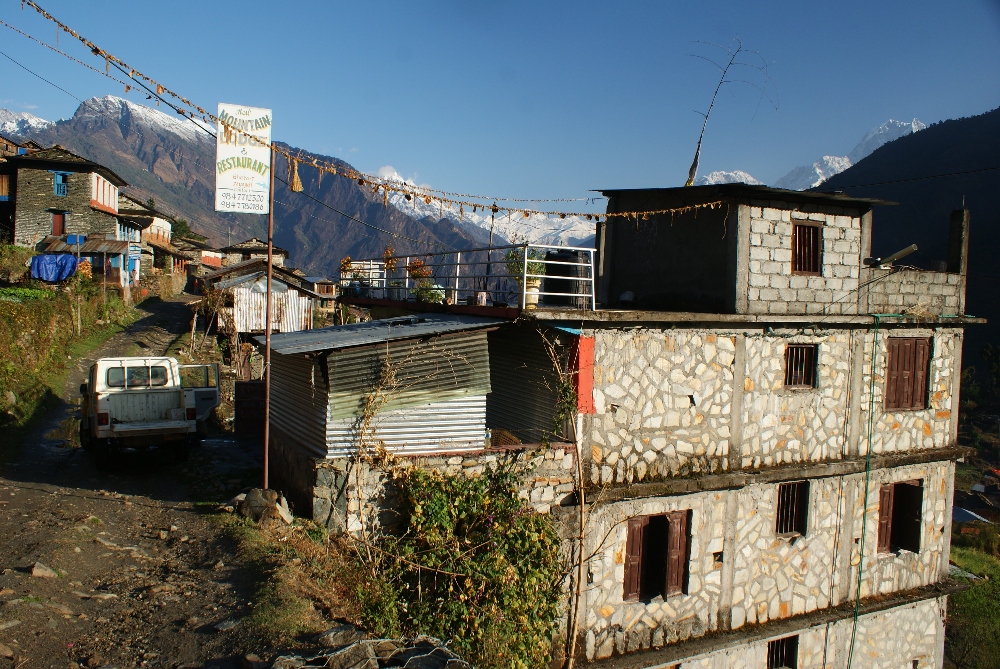 The next day we walked all the way up to Ghorepani where we found huge variety of accommodation, from big hotels to the tiny guesthouses. We stayed at Annapurna Lodge View, which provides very clean rooms and delicious food! The whole valley around Poon Hill was covered with blooming rhododendrons, dark pink colored flowers made the whole surroundings looks gorgeous.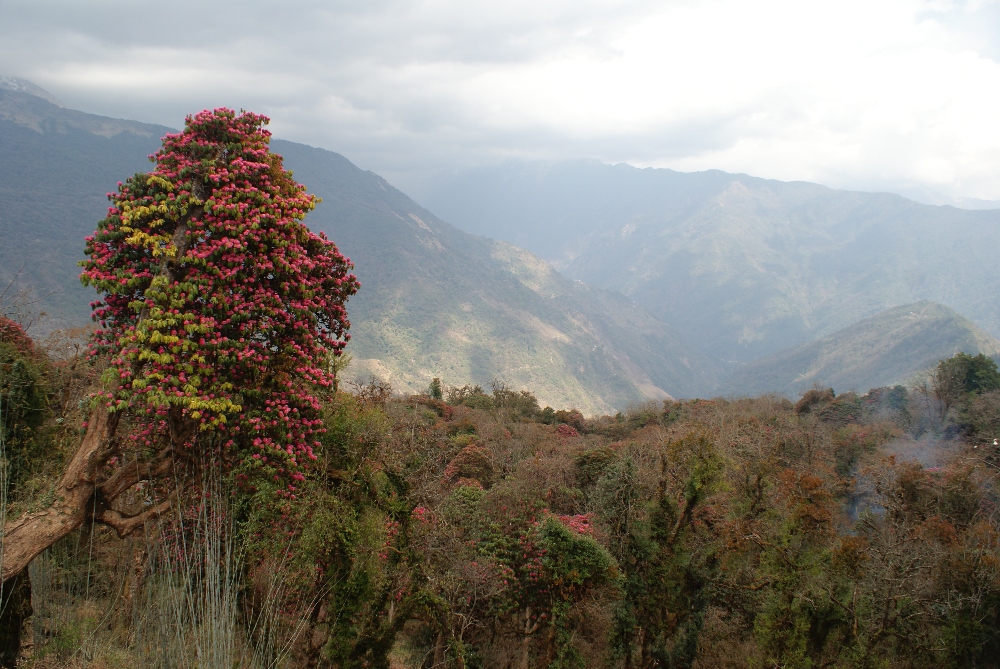 The trekking here is really different from what we experienced on Annapurna Circuit. Walking on steps made with rocks got quite boring after a while but the rice paddies and dense, green forest compensate for it. Our last trekking day was very intense, first we were admiring sunrise on Poon Hill (we left at 5am from our lodge), then had breakfast in our guesthouse and finally headed off to Ghandruk. Every morning 200-300 people are gathering on Poon Hill to admire the first rays of sunlight hitting the mountain peaks. It got really cold up there what took away a bit of a joy from this early hike.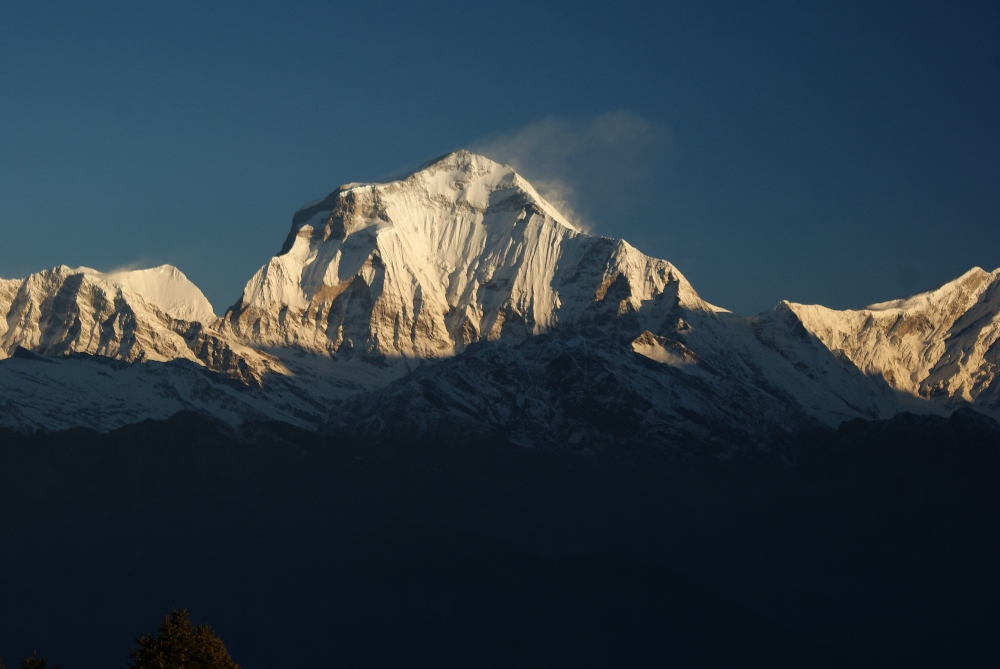 The sign in Ghorepani says it should be 7h to Ghandruk (usually people split this part into 2 days). We were very surprised that the first hour was leading uphill, passing Deurali Pass Viewpoint from where we could admire the Poon Hill from a distance. Finally, the path started to descend with very high, rocky steps. To our surprise, the last 30min before Tadapani the path was leading up again … this really destroyed me so it was perfect time to stop for a lunch. After that, full of energy, we walked the last part to Ghandruk. The path was leading through bushy forest and green fields.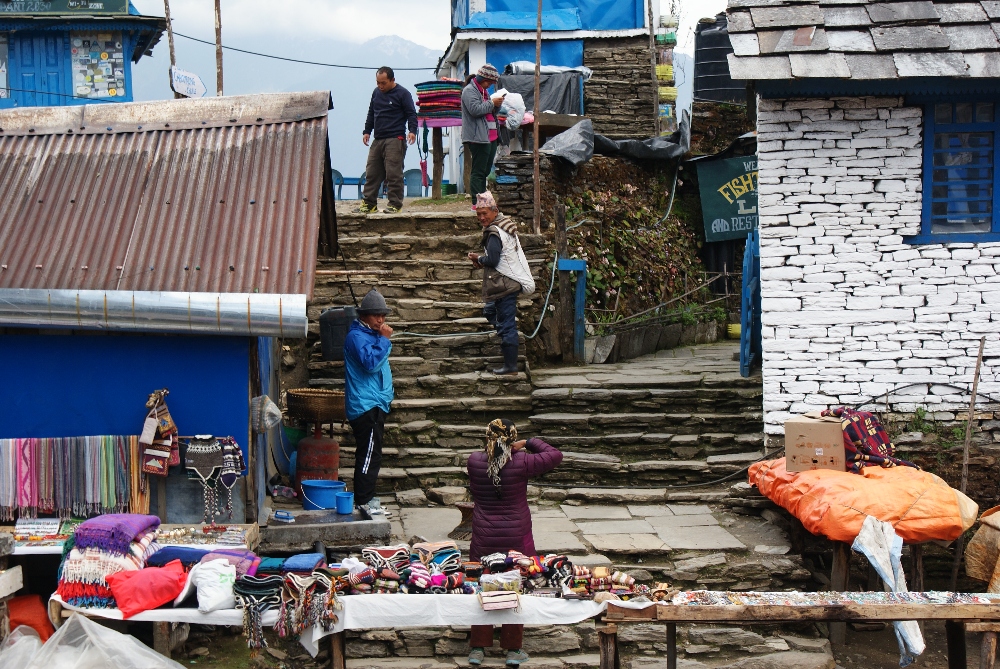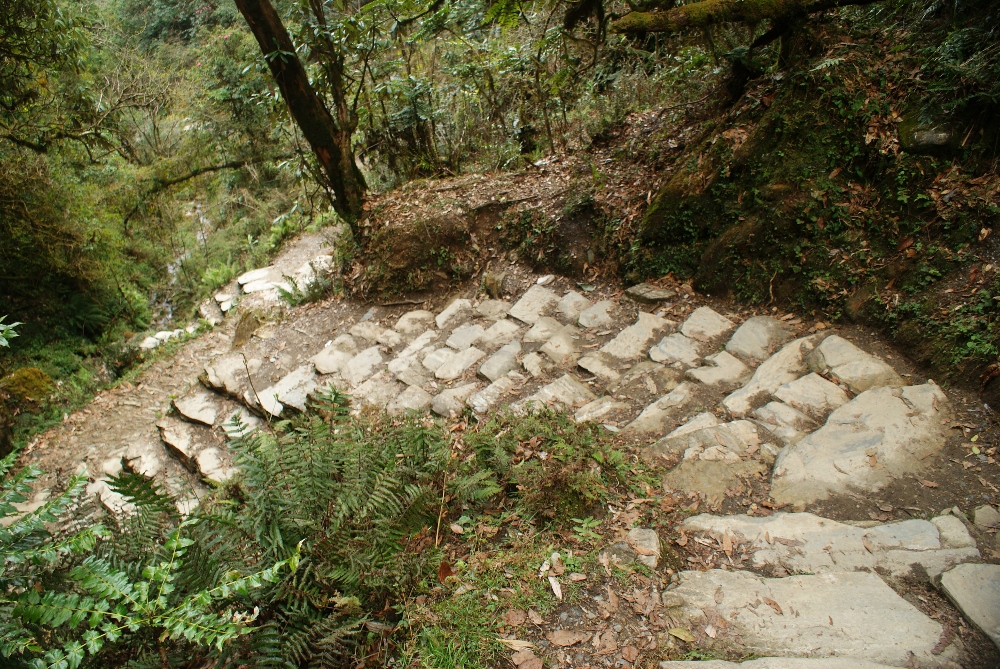 We were very glad to end up in Sakura Hotel. The owner also had a small bakery, very clean rooms and, to our surprise, we were there the only guests! Next few days we spent in Pokhara before leaving to Kathmandu from where we had our plane to Bangkok.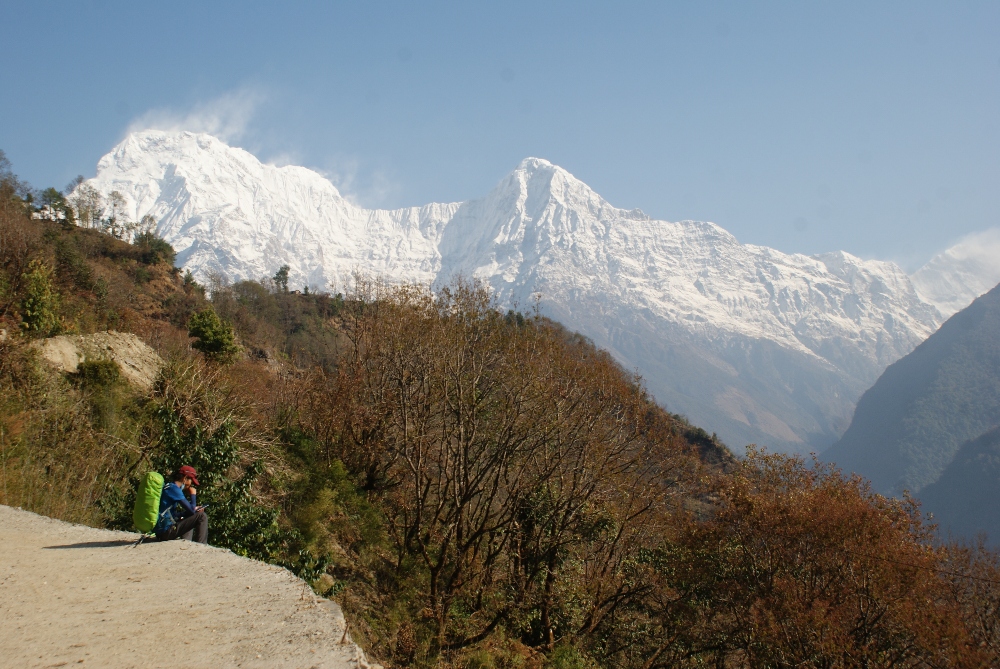 Below you can see our hike day by day with distances and time necessary to complete each part. During these 15 days of hiking we managed to complete around 197km :D This was the longest trekking we have ever done in our lives. It was amazing experience and if you only have a chance, go there and experience local culture and beauty of nature. More practical information you will find in the next post.
Day 1: Pokhara - Besishahar by bus + Besishahar (810m) - Bhulbhule (830m) - 9.4km, 3h
Day 2: Bhulbhule (830m) - Jagat (1330m) - 19km, almost 7h
Day 3: Jagat (1330m) - Dharapani (1890m) - 17km, almost 7h
Day 4: Dharapani (1890m) - Chame (2690m) - 15km, 6h
Day 5: Chame (2690m) - Upper Pisang (3200m) - 16,5km, almost 5h
Day 6: Upper Pisang (3200m) - Manang (3540m) - 21.5km, 7h through Ghyaru village (3730m)
Day 7: Manang (3540m) - acclimatization hike to the Ice Lake (only up to the Tea House 4250m) , 12.5km, 6h
Day 8: Manang (3540m) - resting day, walk to Gangapurna Tal (lake close to village), 2km
Day 9: Manang (3540m) - Churi Ledar (4200m) - 12.2km, almost 5h
Day 10: Churi Ledar (4200m) - High Camp (4800m) - 8.2km, 4h
Day 11: High Camp (4800m) - Thorong La Pass (5416m) - Muktinath (3670m) - 17km, 8.5h
Day 12: Muktinath (3670m) - Old Jamson by bus + Old Jamson - Marpha (2680m), 6km, 1.5h
Day 13: Marpha - Tatopani (1110m) by bus + Tatopani (1110m) - Ghara (1790m), 6.5km, 2.5h
Day 14: Ghara (1790m) - Ghorepani (2860m) - 9.5km, 5h
Day 15: Ghorepani (2860m) - sunrise on Poon Hill (3210m) - 10km, almost 2h + Ghorepani (2860m) - Ghandruk (2030m) - 14km, 6.5h