Muang Ngoy: our small bungalow, butterflies and blissful silence
by Monika Suchoszek
We set off again, this time in search of pure nature, exceptional mountains and, most importantly, places where people are honest and even simple food taste differently. The northern part of Laos showed us its true beauty, taught us how to enjoy the quiet and simplicity of life. The Nam Ou River is one of the Mekong's most important tributaries and on the bank of this river, our next destination was located. To reach the village Muang Ngoy, we had to take a bus to Nong Khiaw and them switch to a small boat which takes tourists to their final destination. We had enough time to have a lunch while waiting for a boat which surprisingly left on time! We talked with some people who were going to cross the border with Vietnam, taking the boat as far to the north as they could. Sitting on the wooden floor for more than an hour was maybe not very pleasant, but the banks of the river with its intense colours, many buffaloes and butterflies made it definitely manageable :)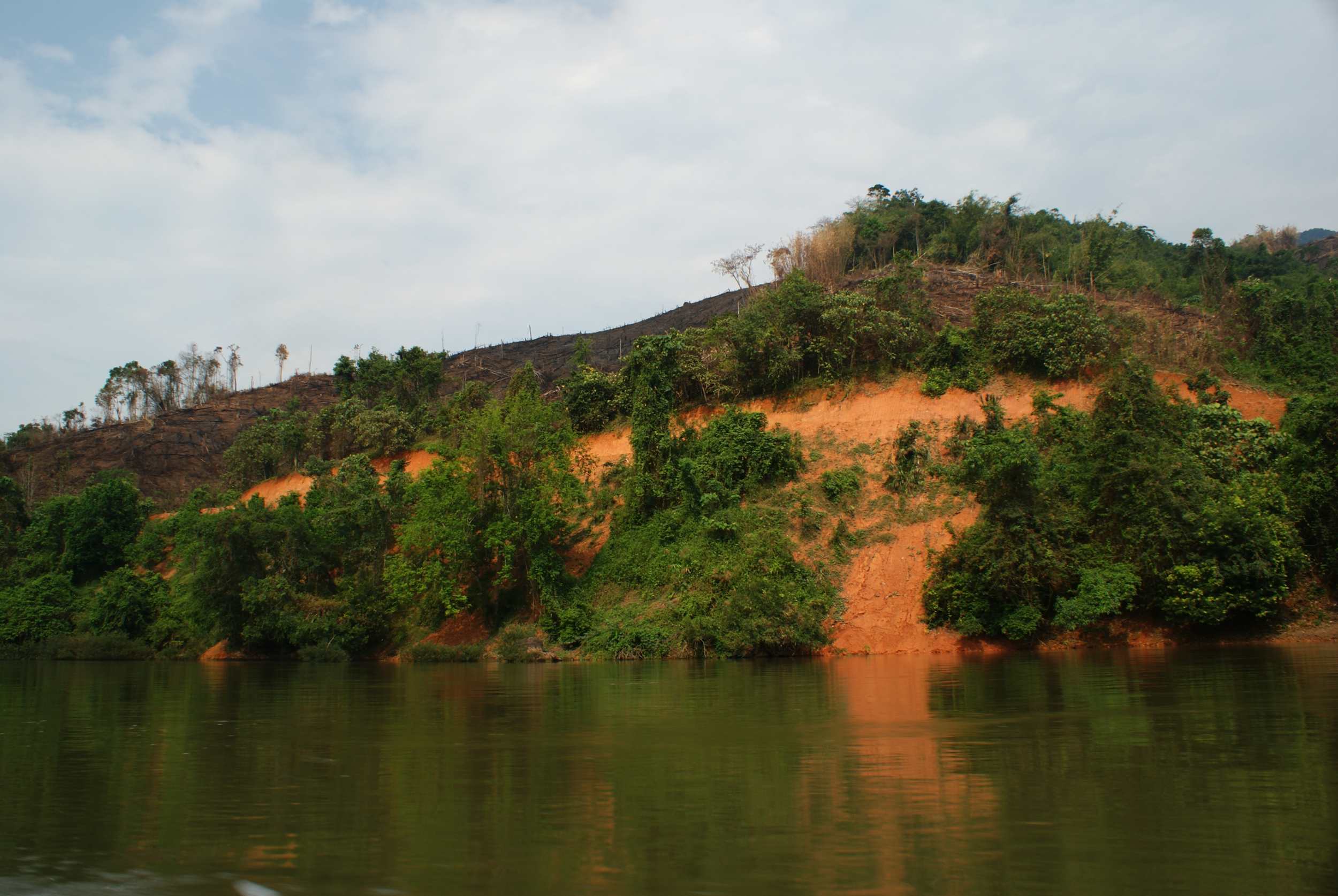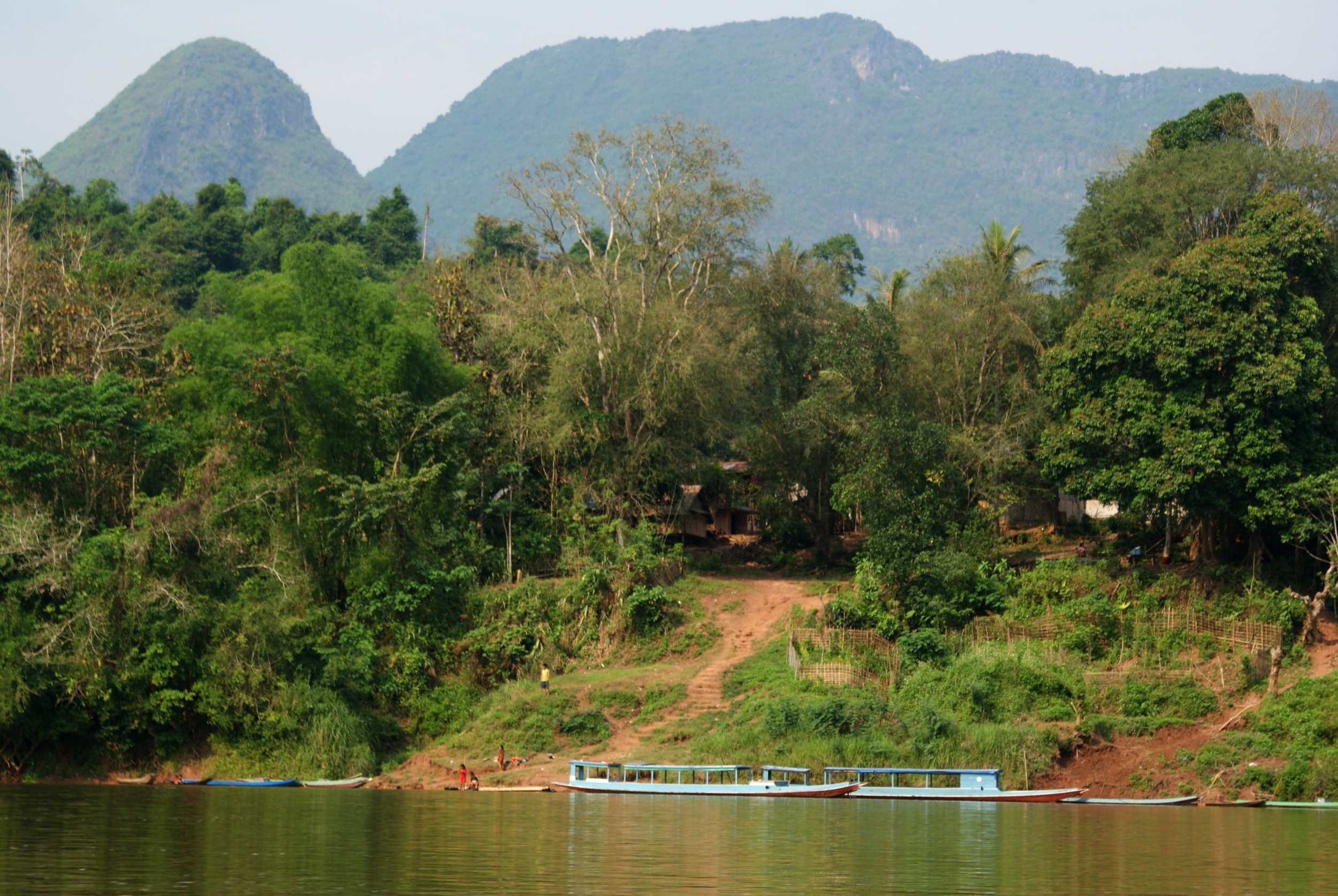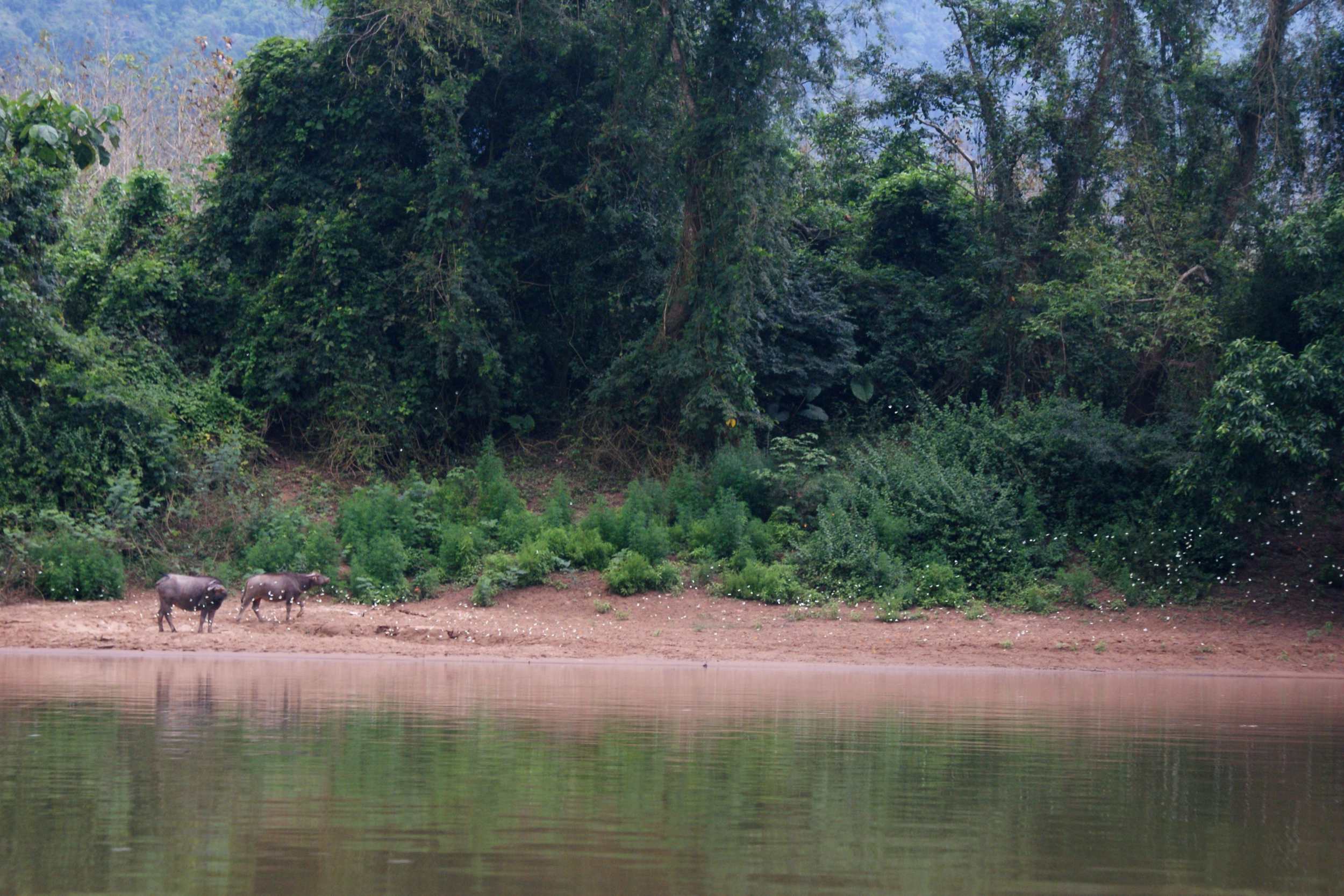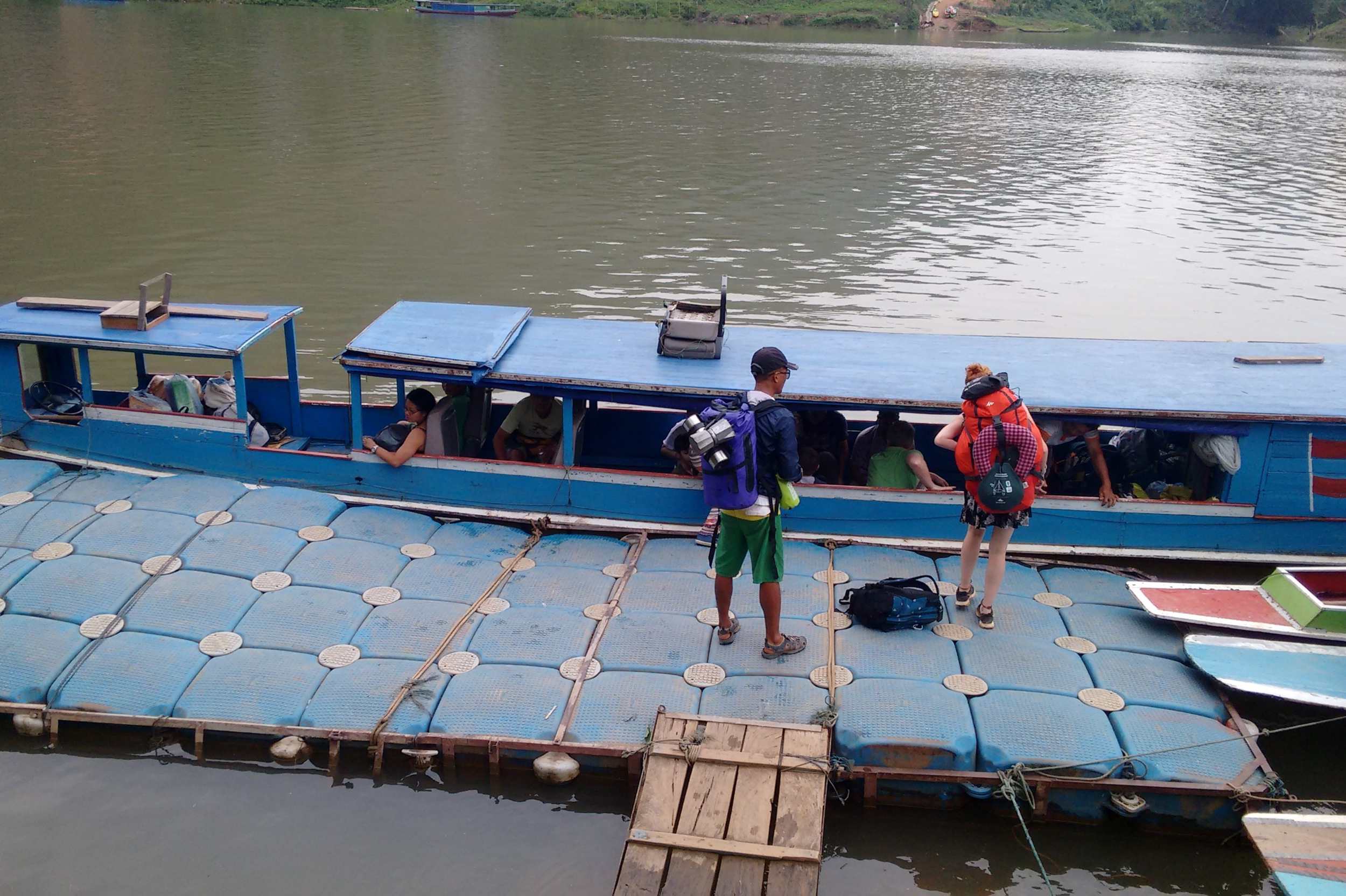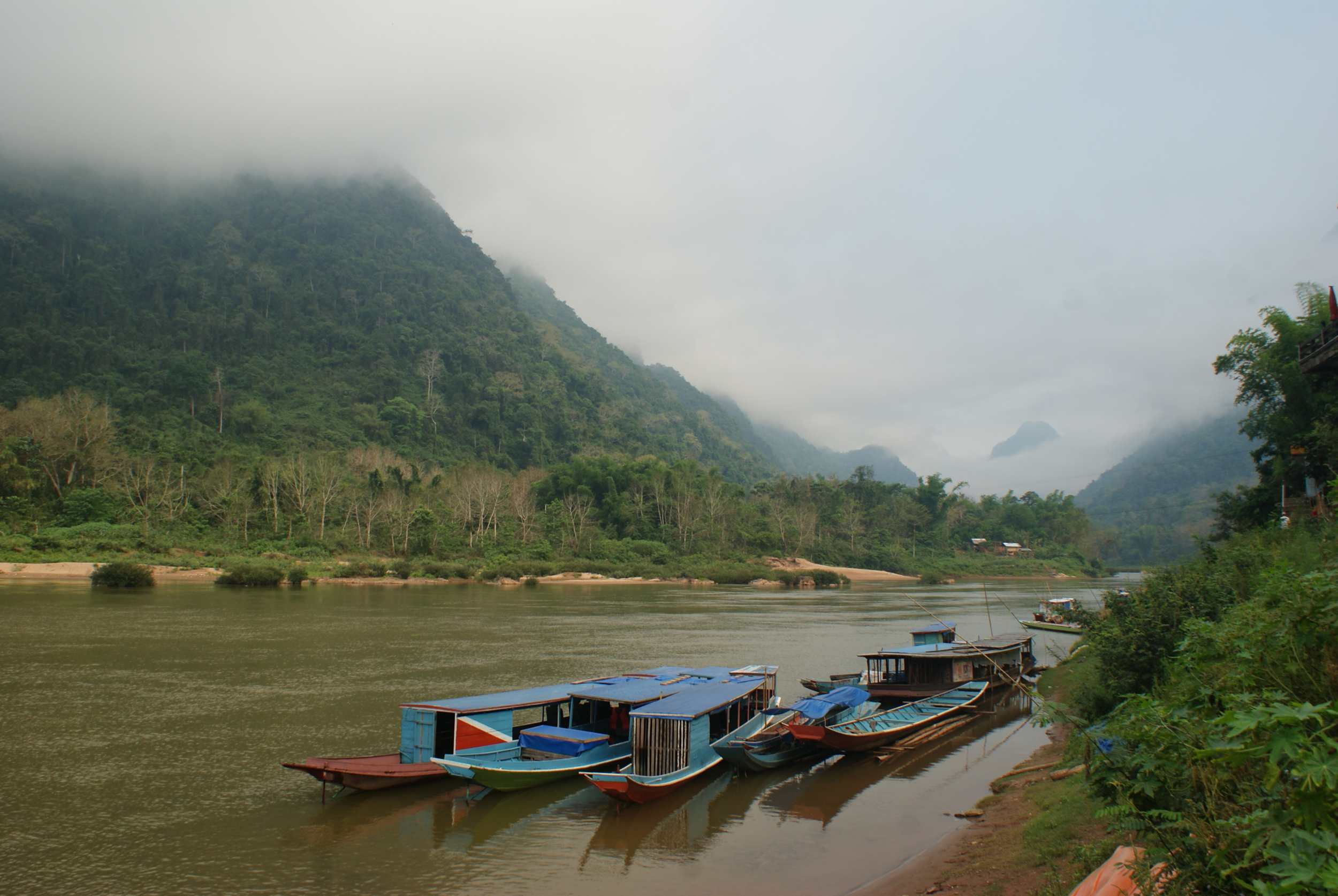 We just got out of the boat and noticed many guest house owners waiting to sway us to stay at their place. Sometimes you just need to trust your instincts, we talked to the woman who owns Suan Phao Guesthouse and the local pharmacy and this turned out to be a great choice. We stayed in her bungalow two nights, eating freshly-picked bananas from the garden and enjoying beautiful sunsets and sunrises with the view of the river and surrounding hills. There was basically one main street in the village, where all shops and restaurants were located. Actually it's a dirt road that leads back to Nong Khiaw but it takes hours and it's only possible by off-road vehicle (one of the ways for local people to get a delivery of essential supplies). We found really good place to eat, where we had to wait until the owner-cook-waitress gets first all necessary ingredients from her neighbours and then prepare for us delicious local speciality, zoozi soup with pumpkin and other vegetables. We came back there few times, had a chat with her English speaking husband and always had delicious food. We saw her modest kitchen, lacking some of the items, and then we became even more impressed with the flavours of the food.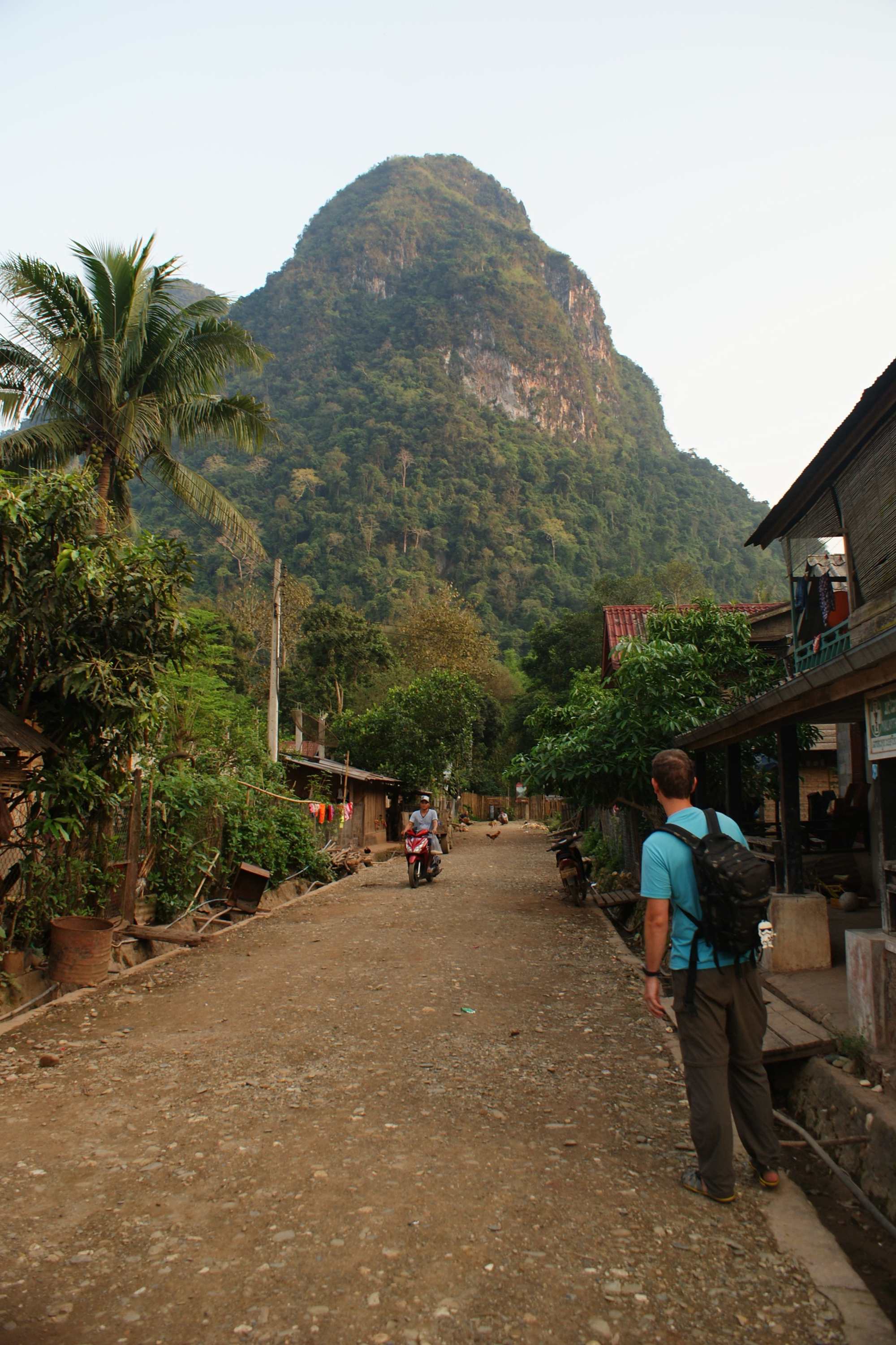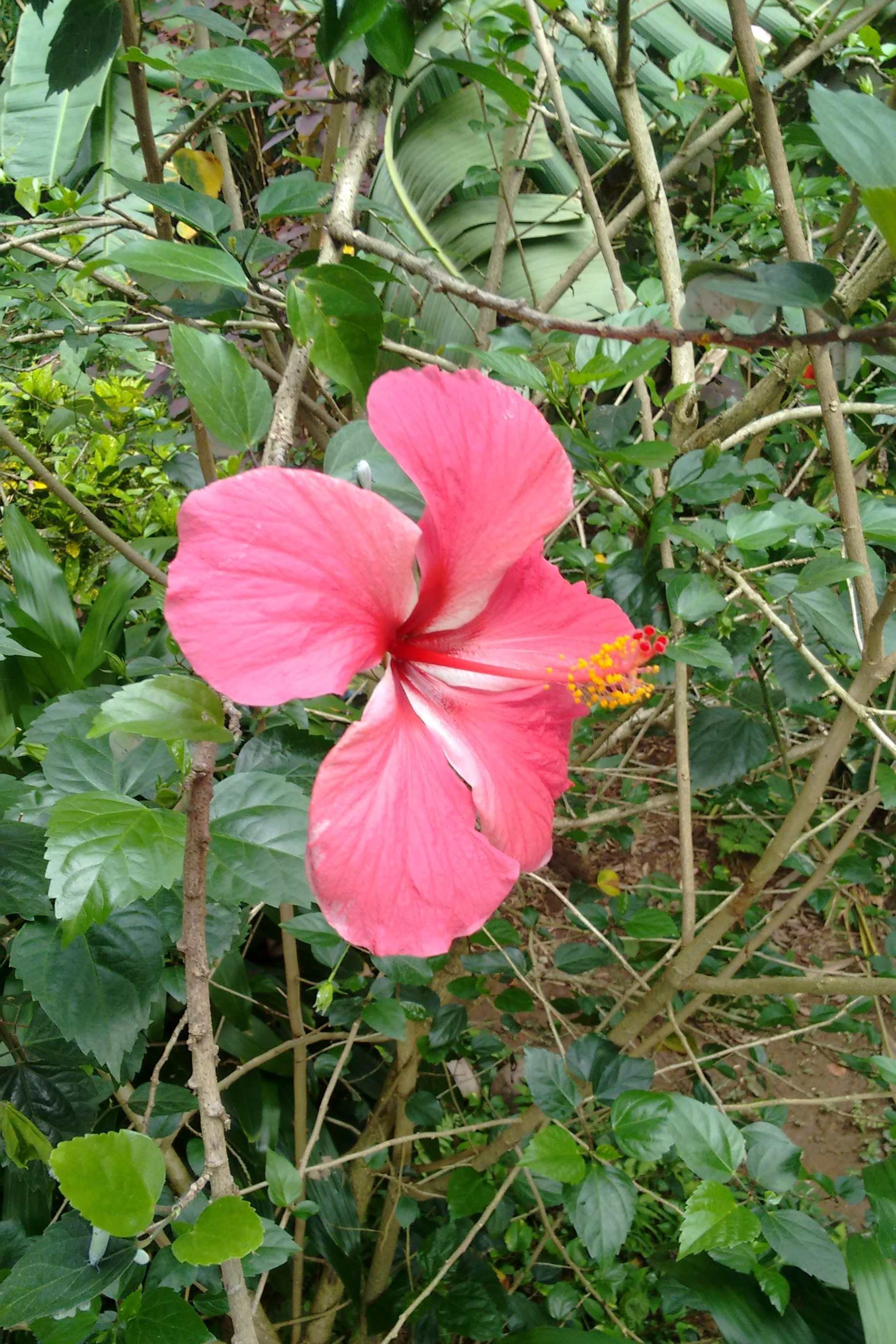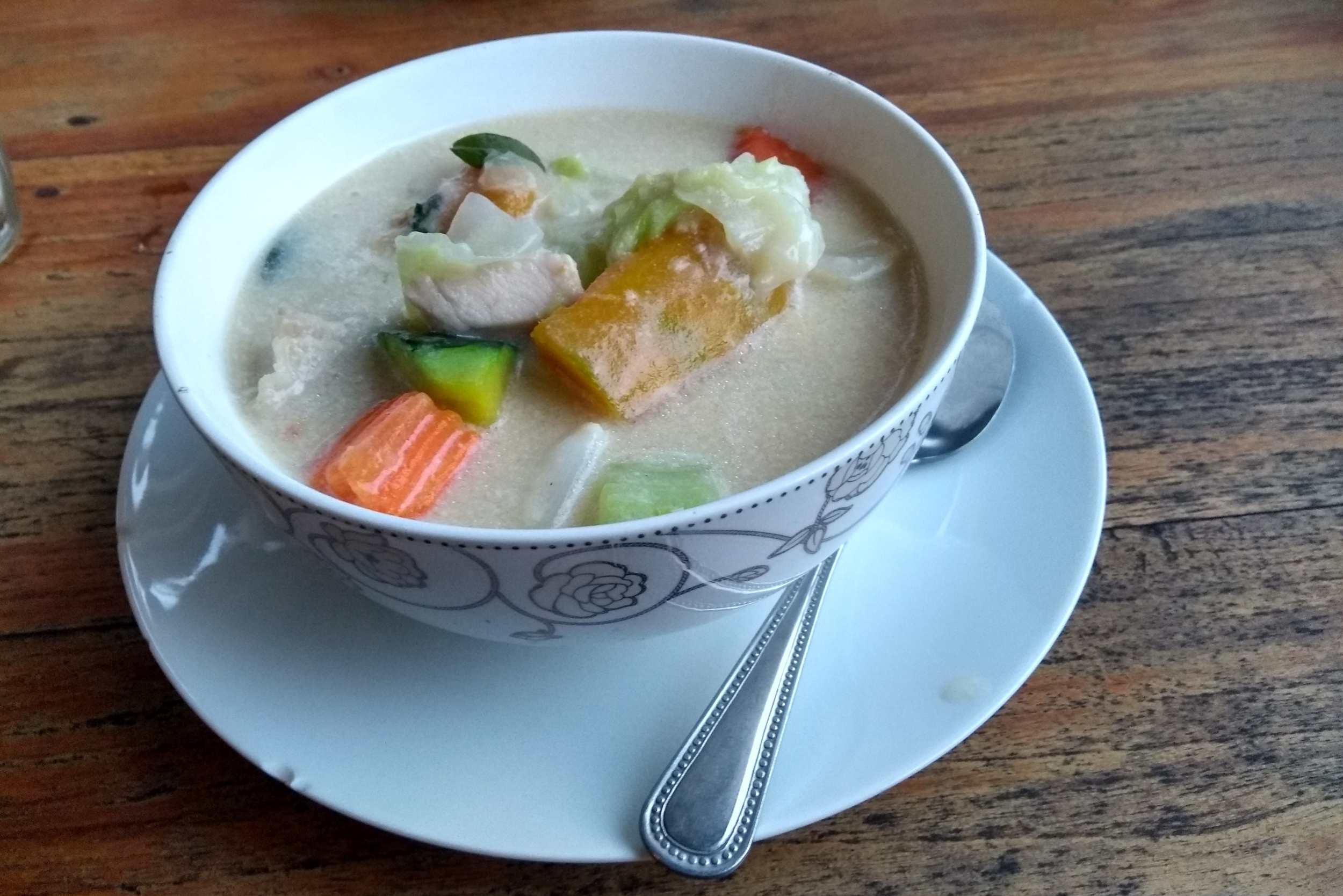 Next day, we woke up with the sun, it was 6am and the all the peaks around the village were covered with a really thick mist which later raised and sky cleared up, this phenomenon was repeating every day. After breakfast we immediately began our walk towards Phanoi viewpoint, before it got really scorching. We walked along the main road in the village until small temple behind which, there was a narrow path leading to impressive forest. Two young and happy dogs joined us and started to follow our path. As we were in the forest, trying to find the way to the viewpoint, one man with machete started to almost run behind us so for a moment I got stressed but he welcomed us with a big smile (like always in Cambodia or Laos) and explained he is the one who maintain the path leading uphill to the viewpoint :) Here we are, the first tourists before their surprisingly exhausting climb… It was steep and humidity was very high what was clearly visible as drops of sweat on my face, my heart was pumping like crazy and the dogs were still running up and down, without any effort. At one point there was a ladder to climb and the younger dog couldn't go up further, the other dog managed to climb up the steps and joined us all the way to the peak :) Soaked in sweat, we reached the viewing platform where we could admire the river, surrounding peaks and village in all its glory.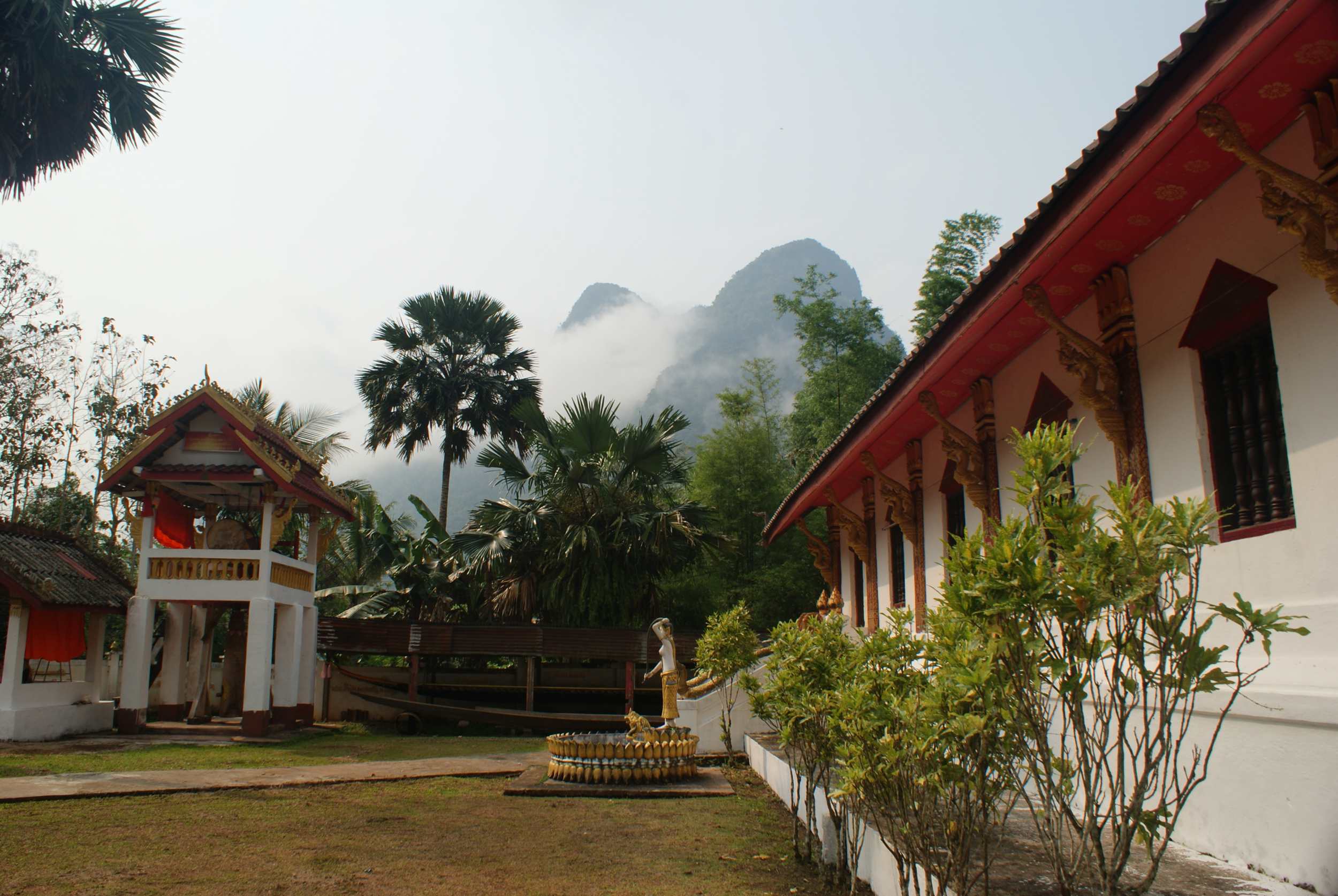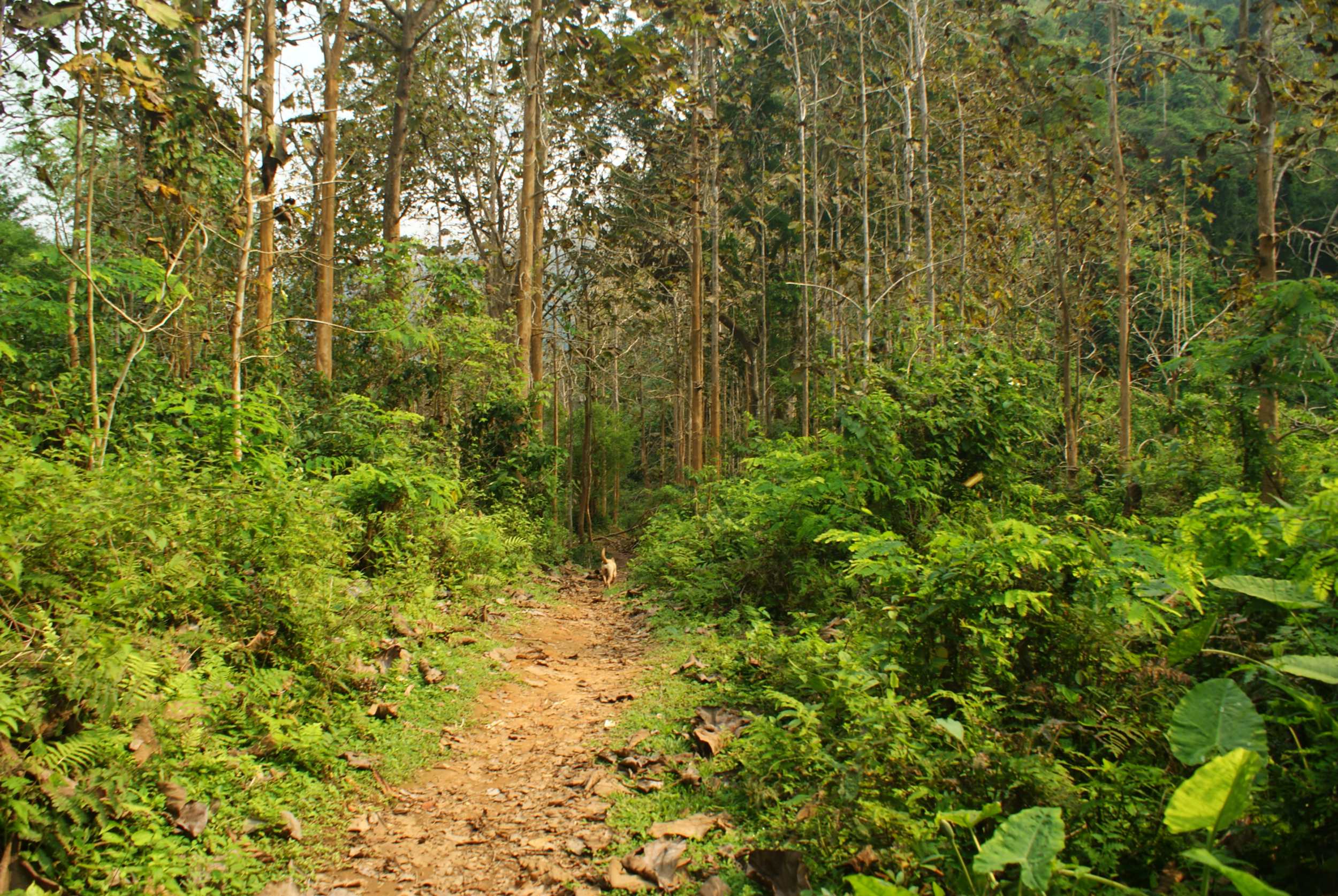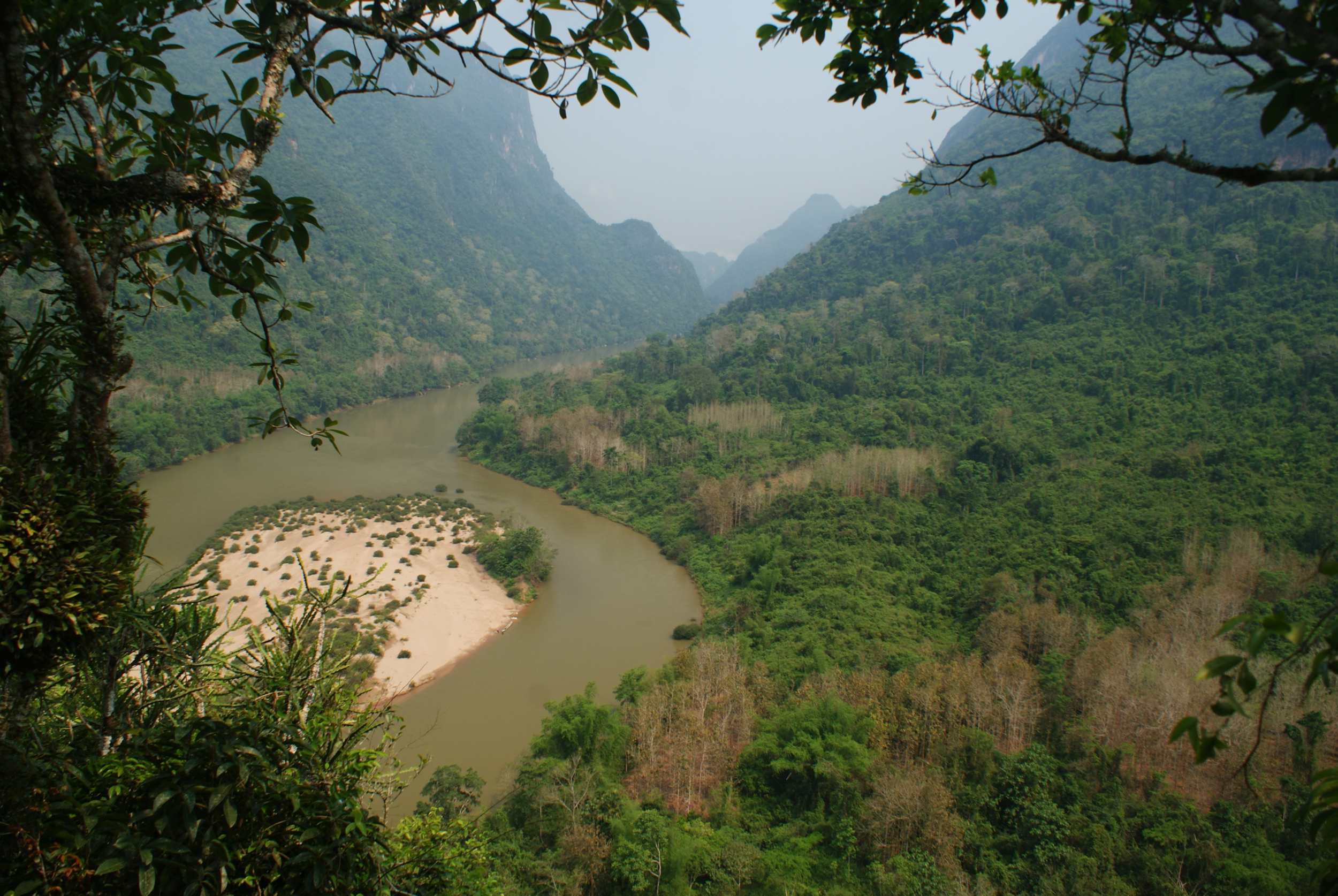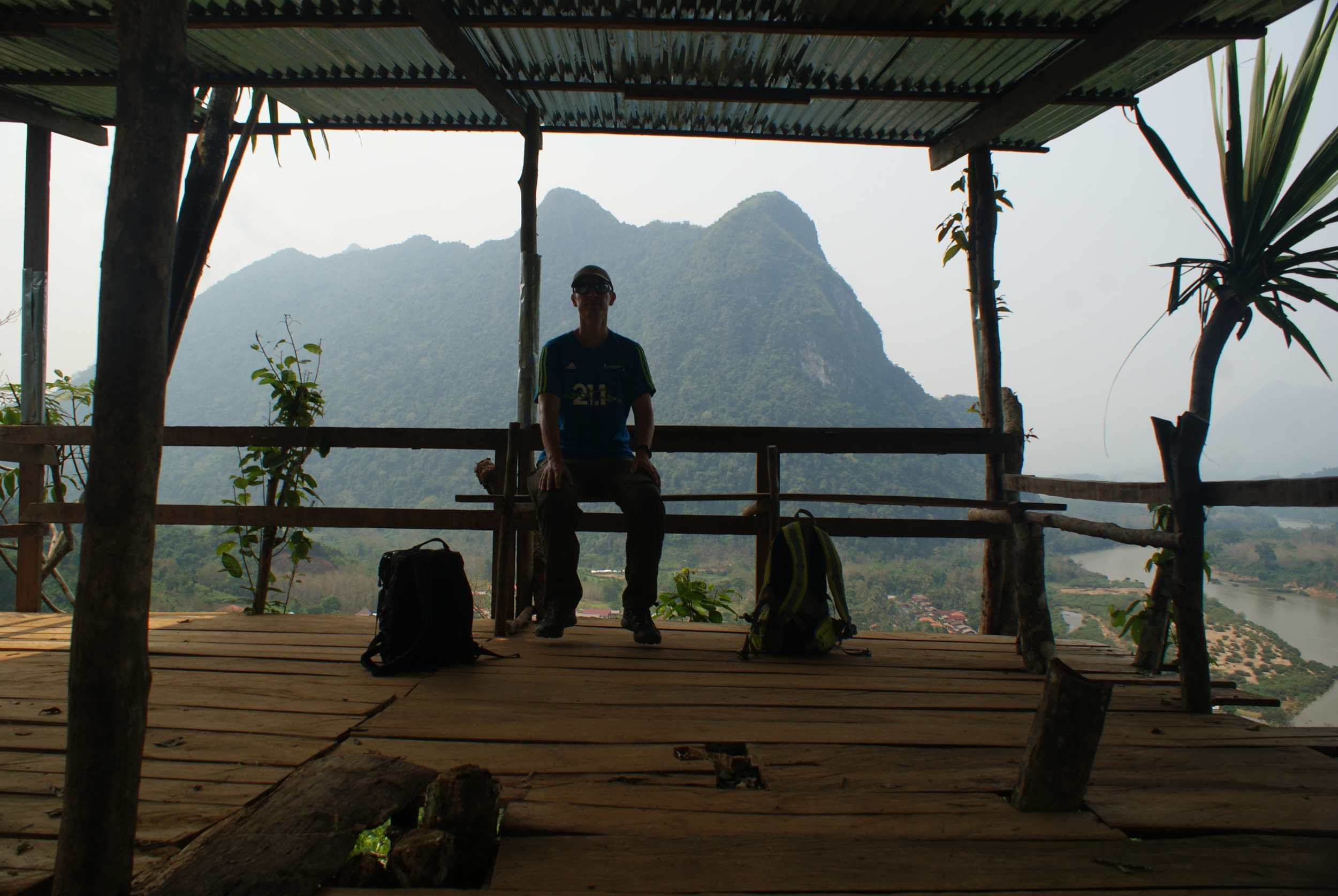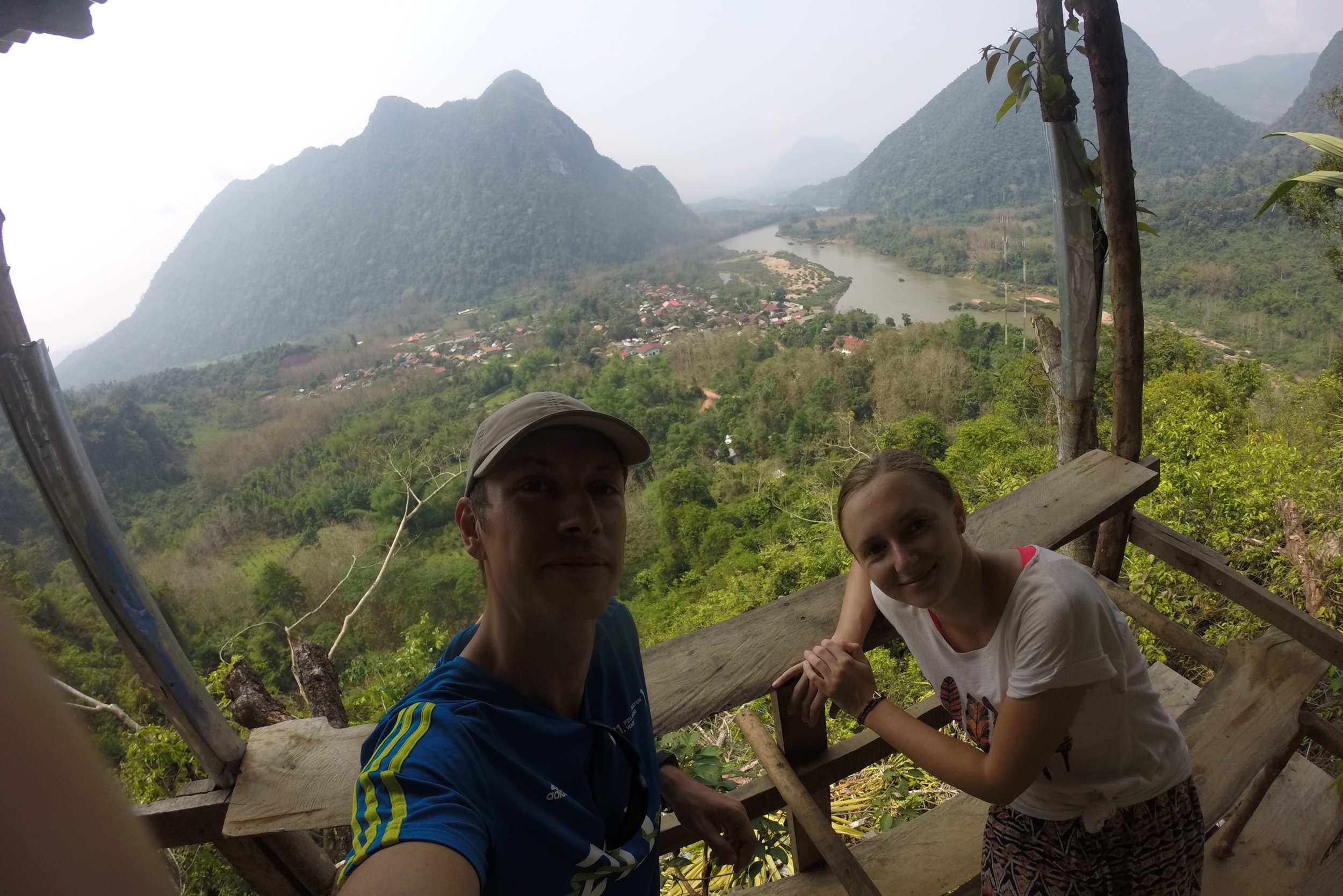 After we came back to our bungalow and had some cold soda, we got our energy back! Our next idea for that day was to go for a hike to the next village, called Baani, which is located further from the river. We walked through Muang Ngoy, looking at the houses and everyday life of the people living here. I need to admit that houses looked really poor but on the other hand every front yard was really clean and tidy. People really take care of what they have.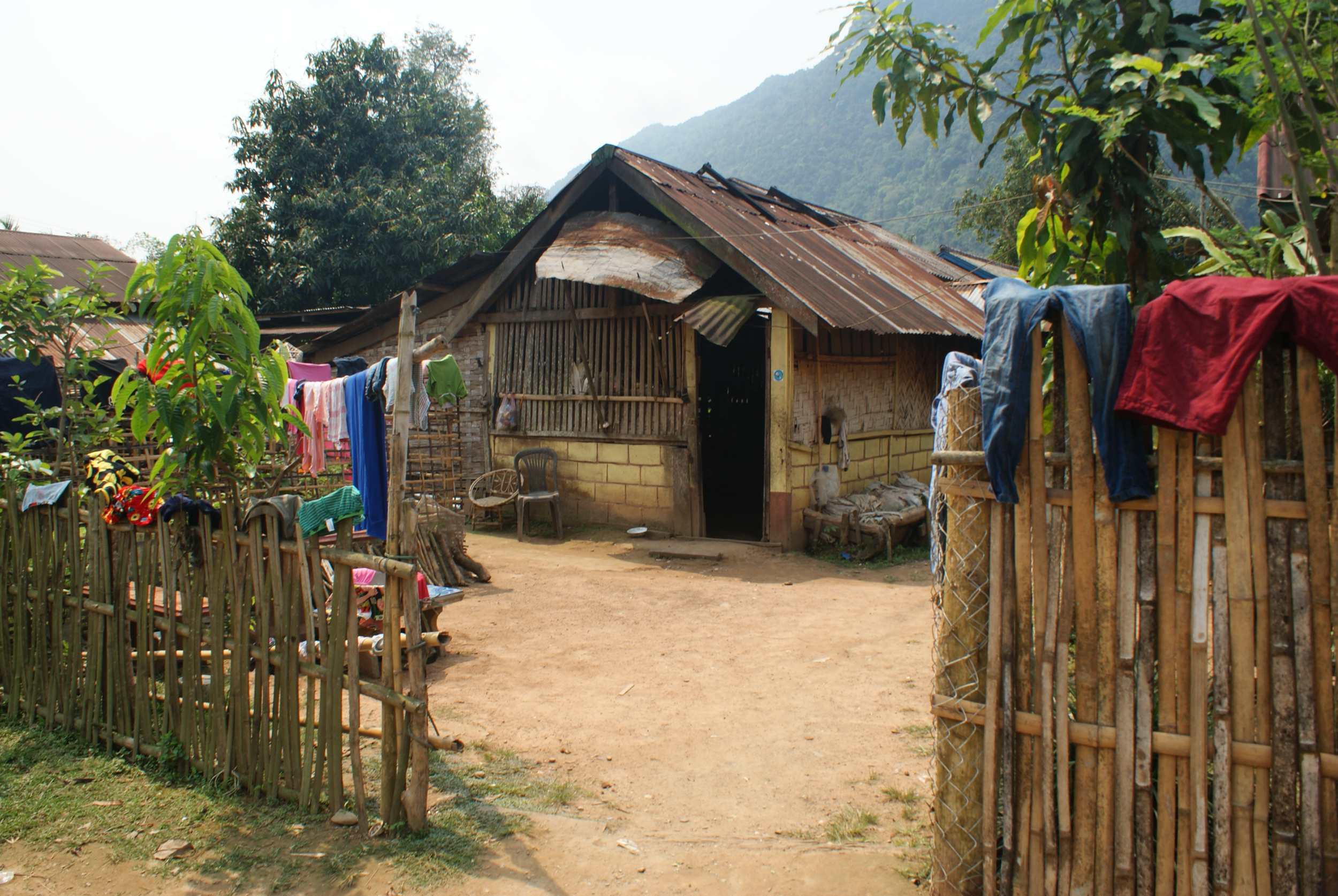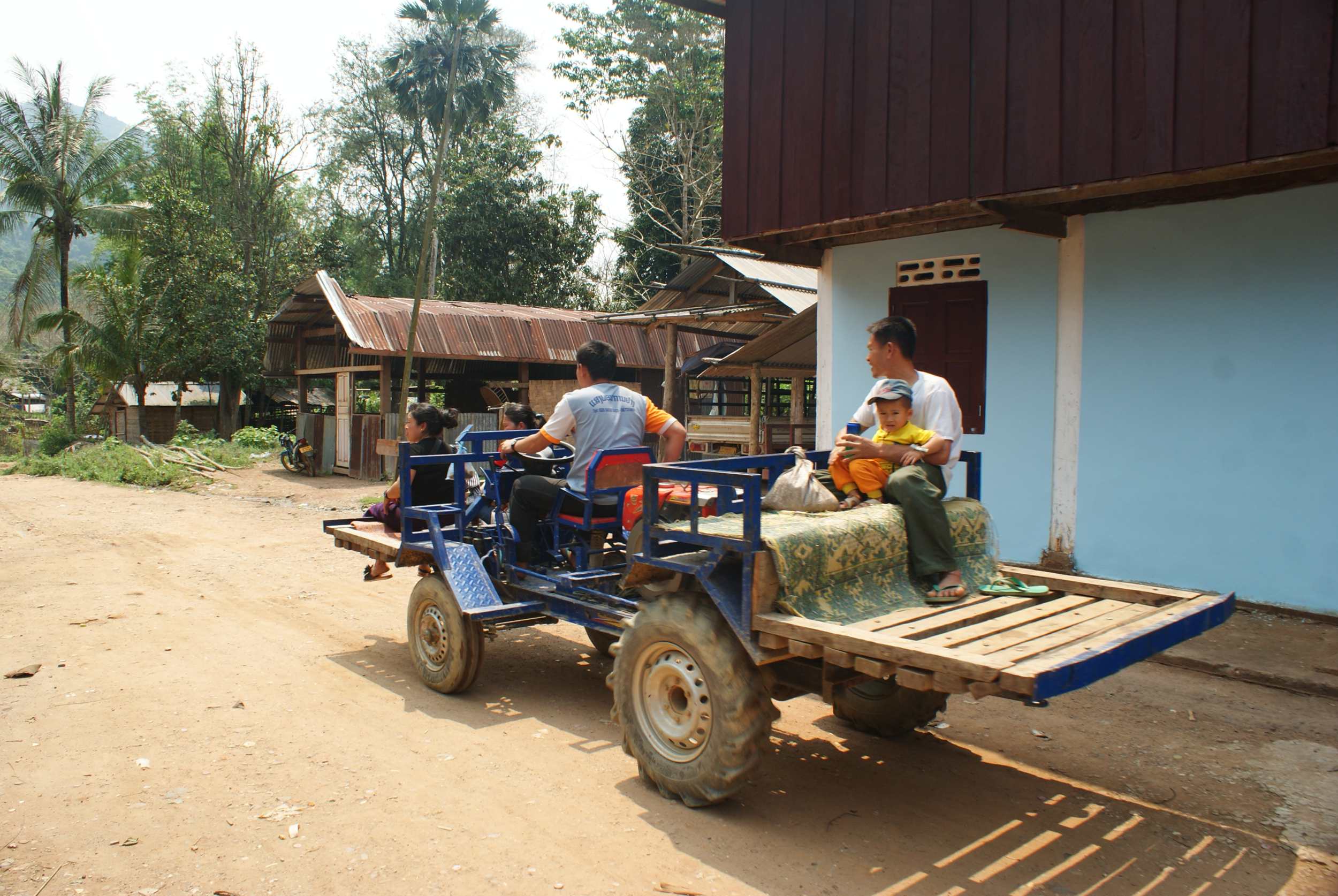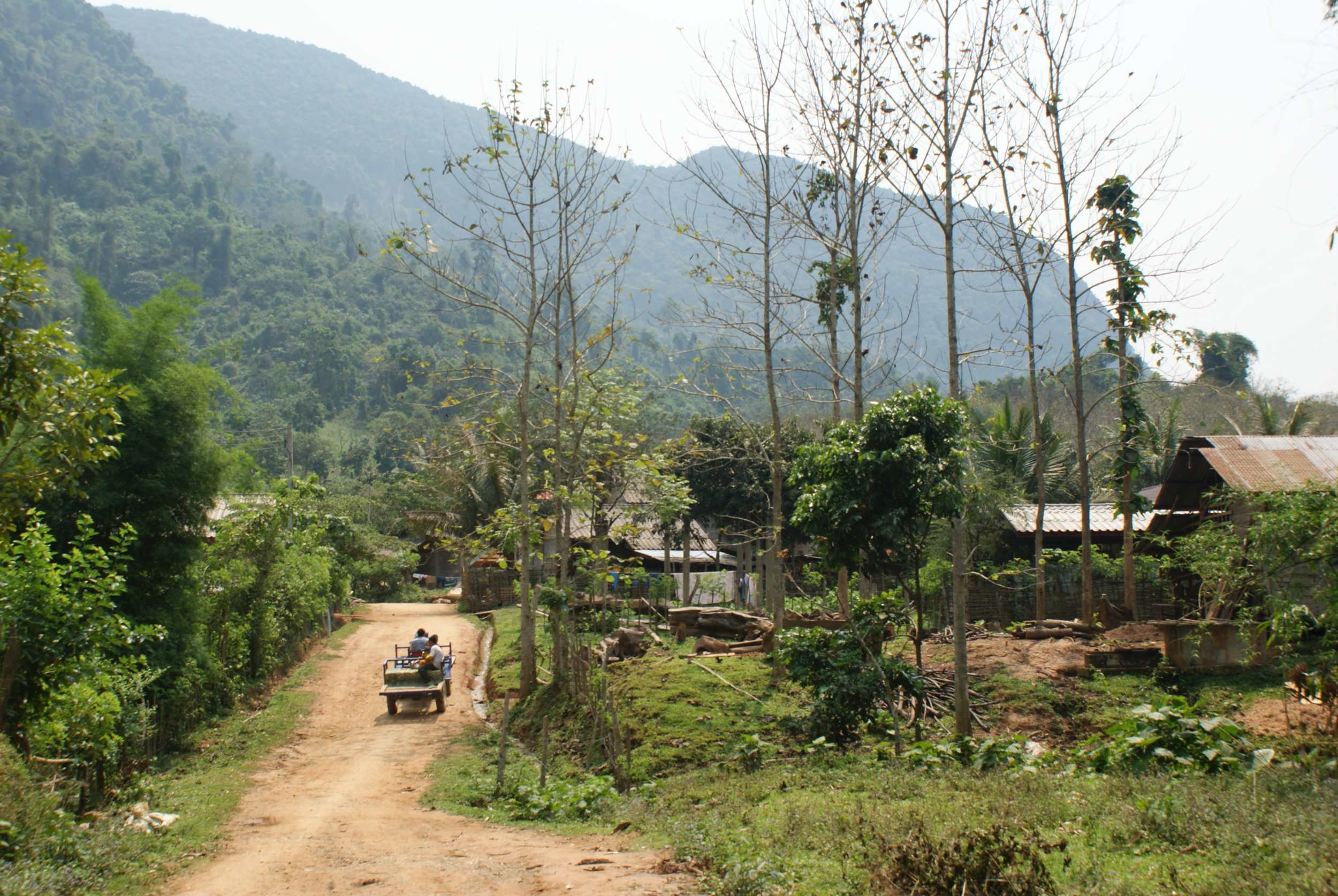 As soon as we left the village, big green fields opened on the horizon. The colors here are so intense! It's important to remember not to walk far from the paths since there are still many unexploded bomb in this region, remainders of Vietnam War. There is a cave open to explore on the way to the village but since we are not big fans of dark caves with water, we happily skipped that one :p The walk was about 5km, along the path which is used to reach the village by car.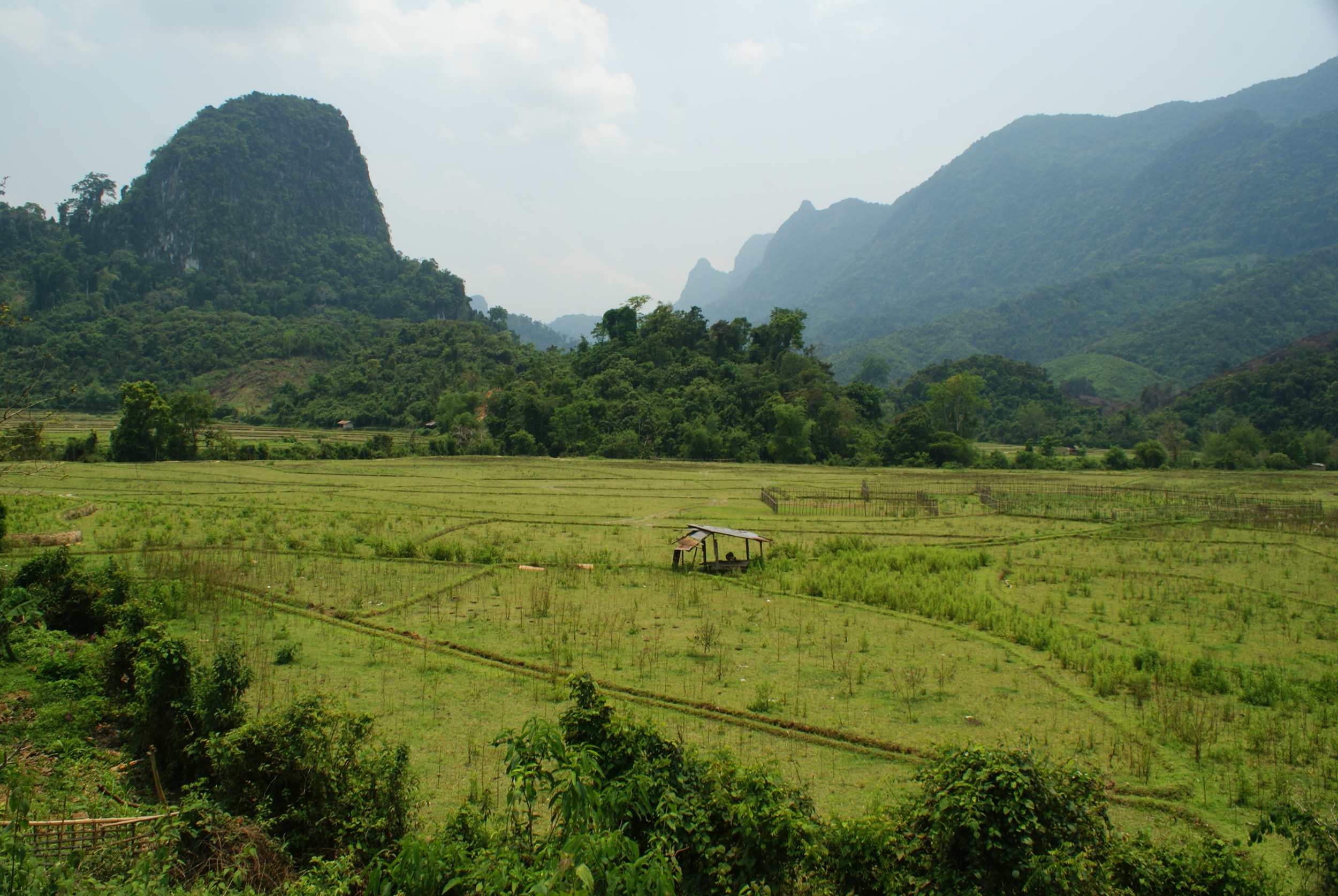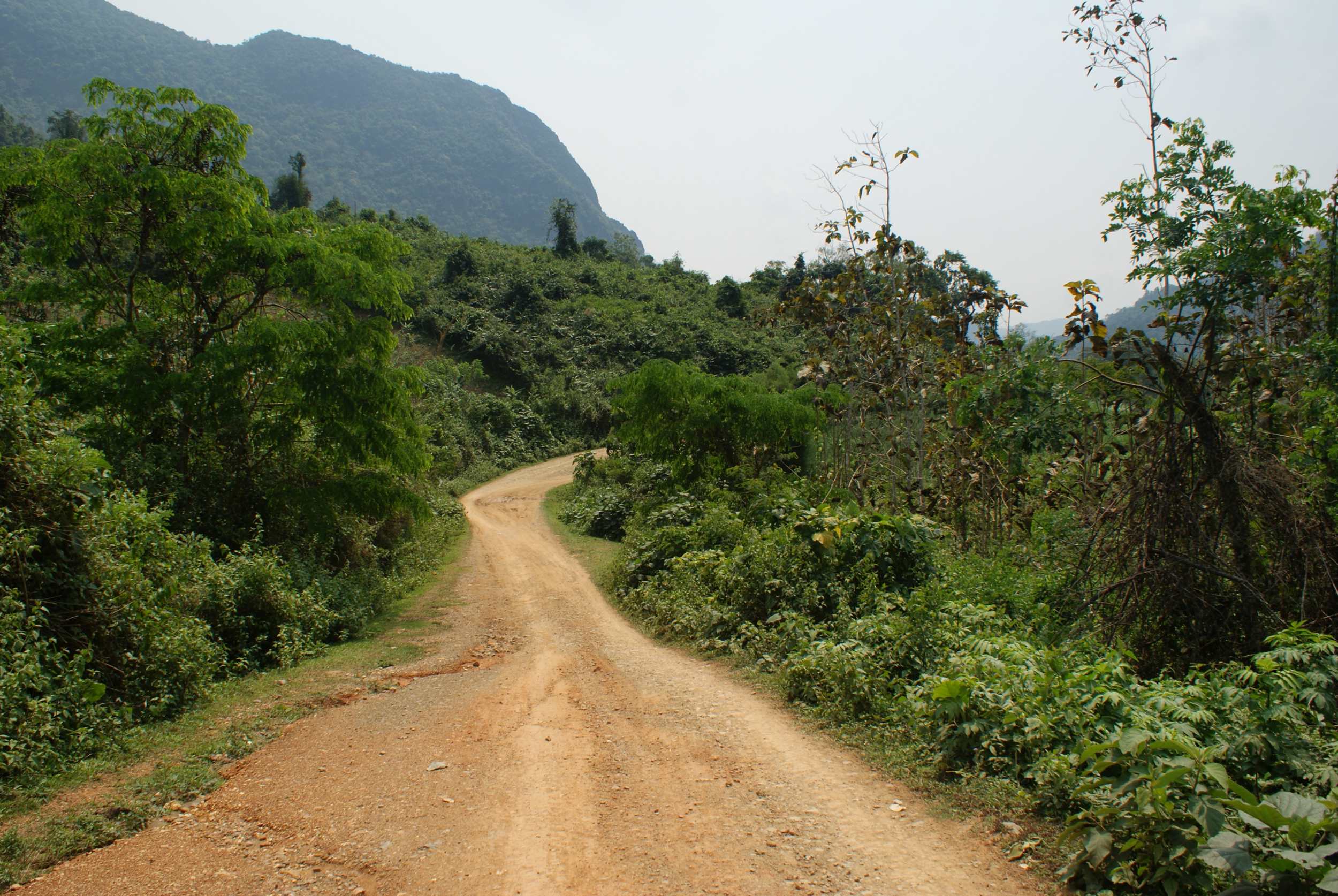 We finally reached our destination! The majority of houses here, as typically in Laos and Cambodia, were standing on stilts, creating a nice shadow underneath them, were animals were readily hiding. I guess it's also a good prevention against insects and moisture getting inside during the rainy seasons. We were really hungry so the first thing was to find any place offering food and it wasn't easy. There was one tiny shop with sweets and beverages, no signs indicating "restaurant" or any kind of stand. At the end of the village, we noticed cans of sodas standing on the shelf and two tables in the front yard of one of the houses what gave us hope for some lunch. Indeed, the woman showed up and we asked her to prepare us whatever she can. She offered us noodles with vegetables and we readily agreed. When we asked her to sell us some water besides the soft drinks, she immediately send her small son to the shop to buy a bottle for us. He looked very happy to get this important mission :) Our lunch turned out to be noodles with betel leaves, no other vegetables. The most basic food we had so far so you can imagine how monotonous diet people here have. There are no electricity wires going to the village, though some people do have a electric generator. We didn't want to consider this place as a tourist attraction, I didn't feel comfortable with taking photos of people either. We were just curious but definitely this visit put our everyday worries into perspective.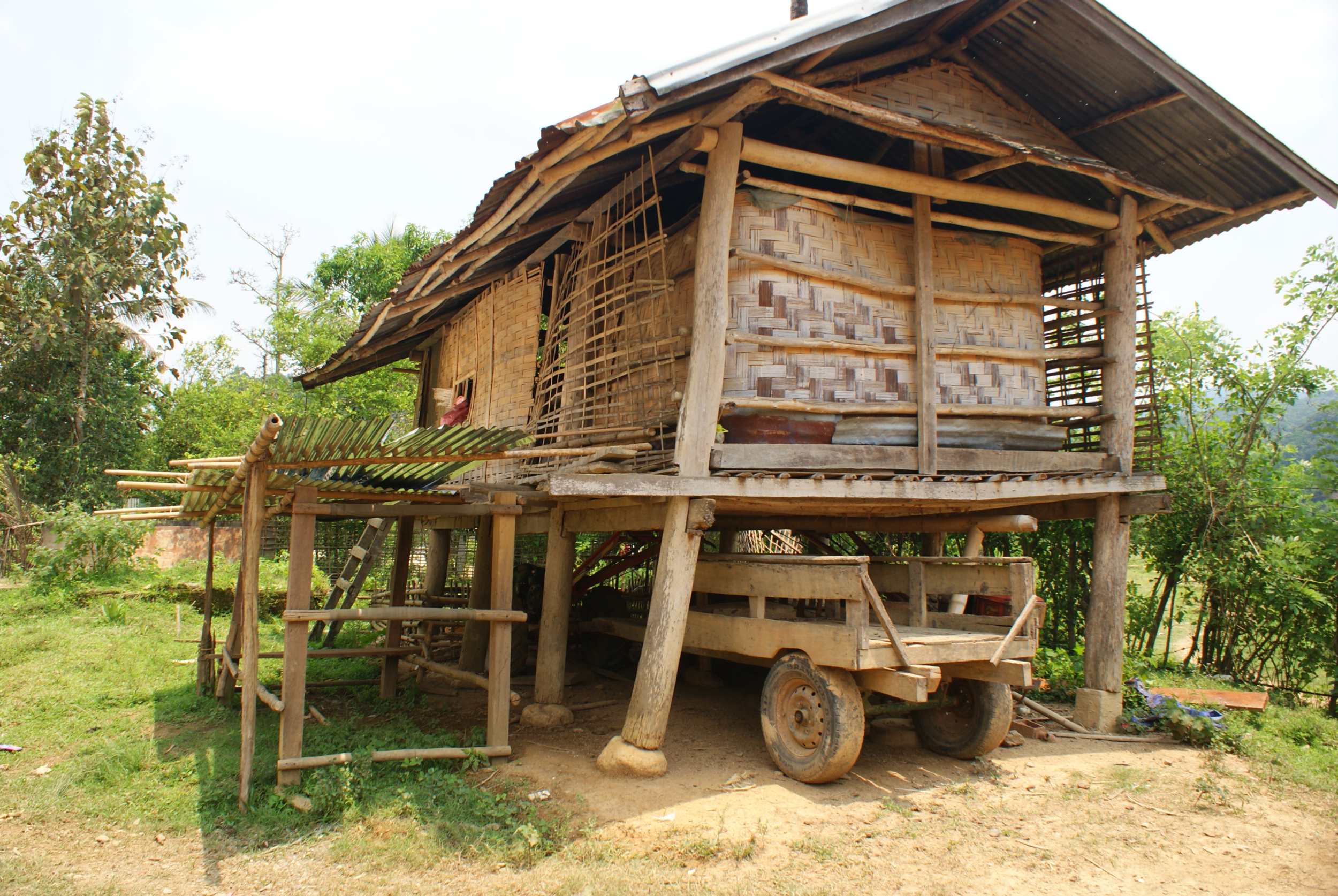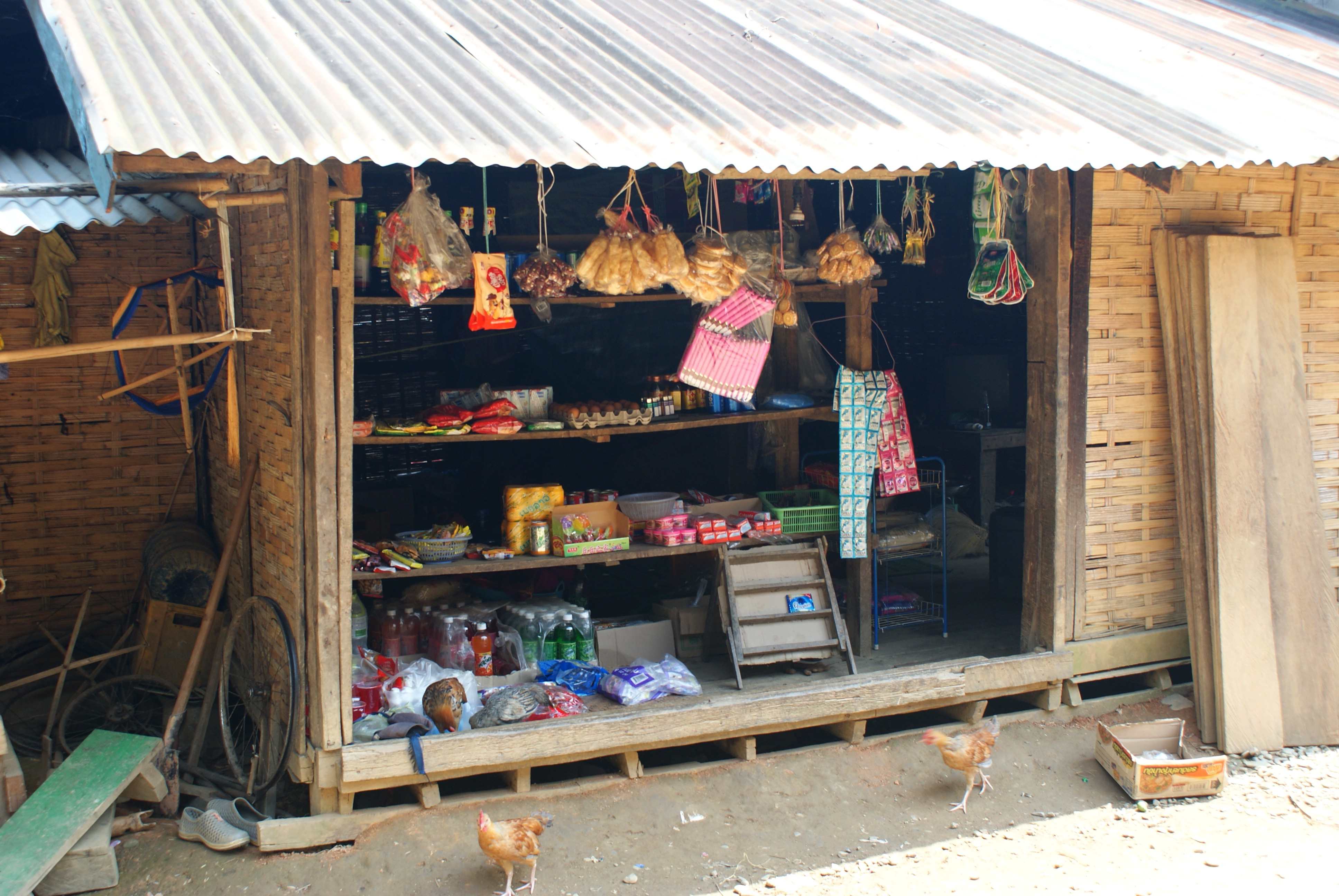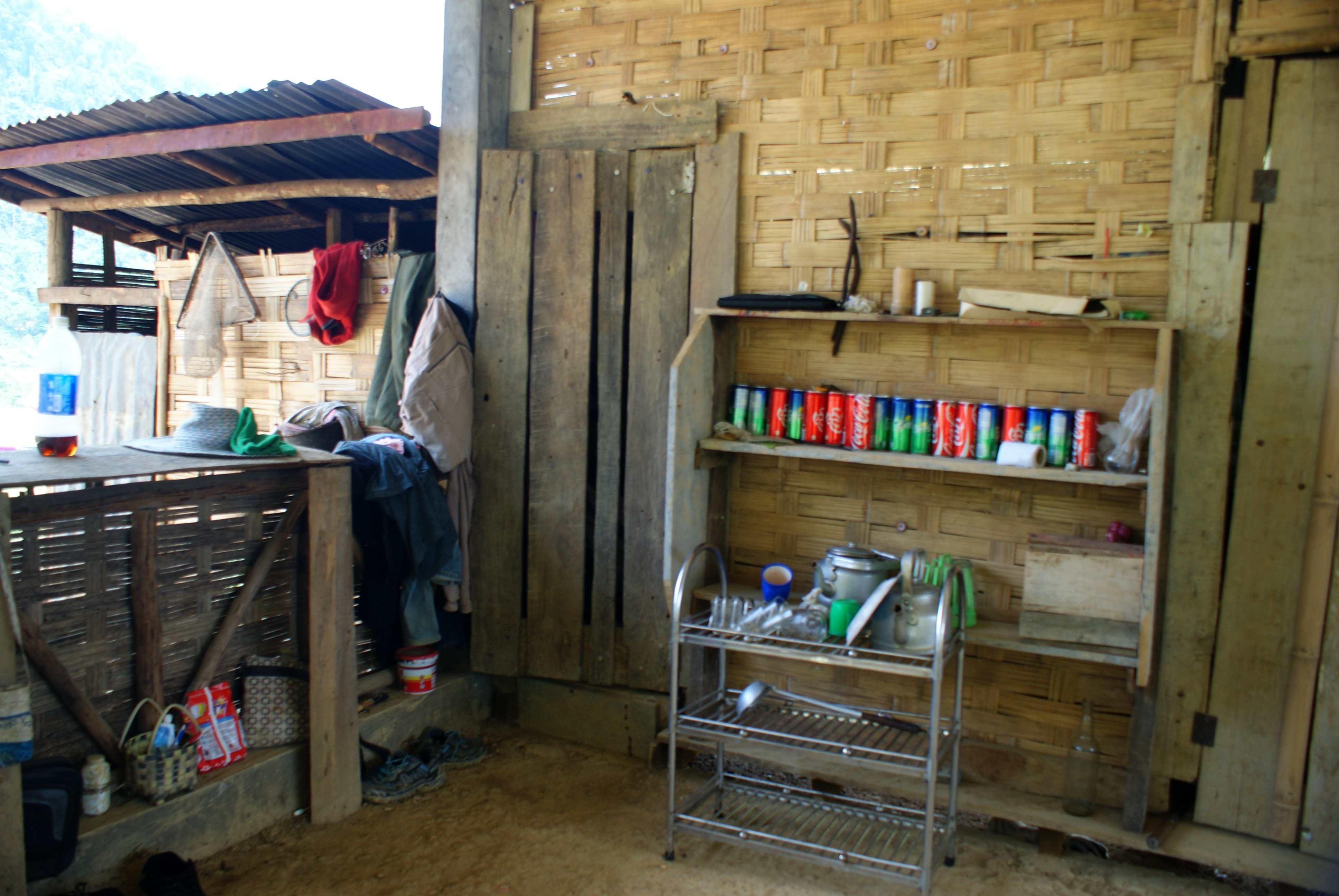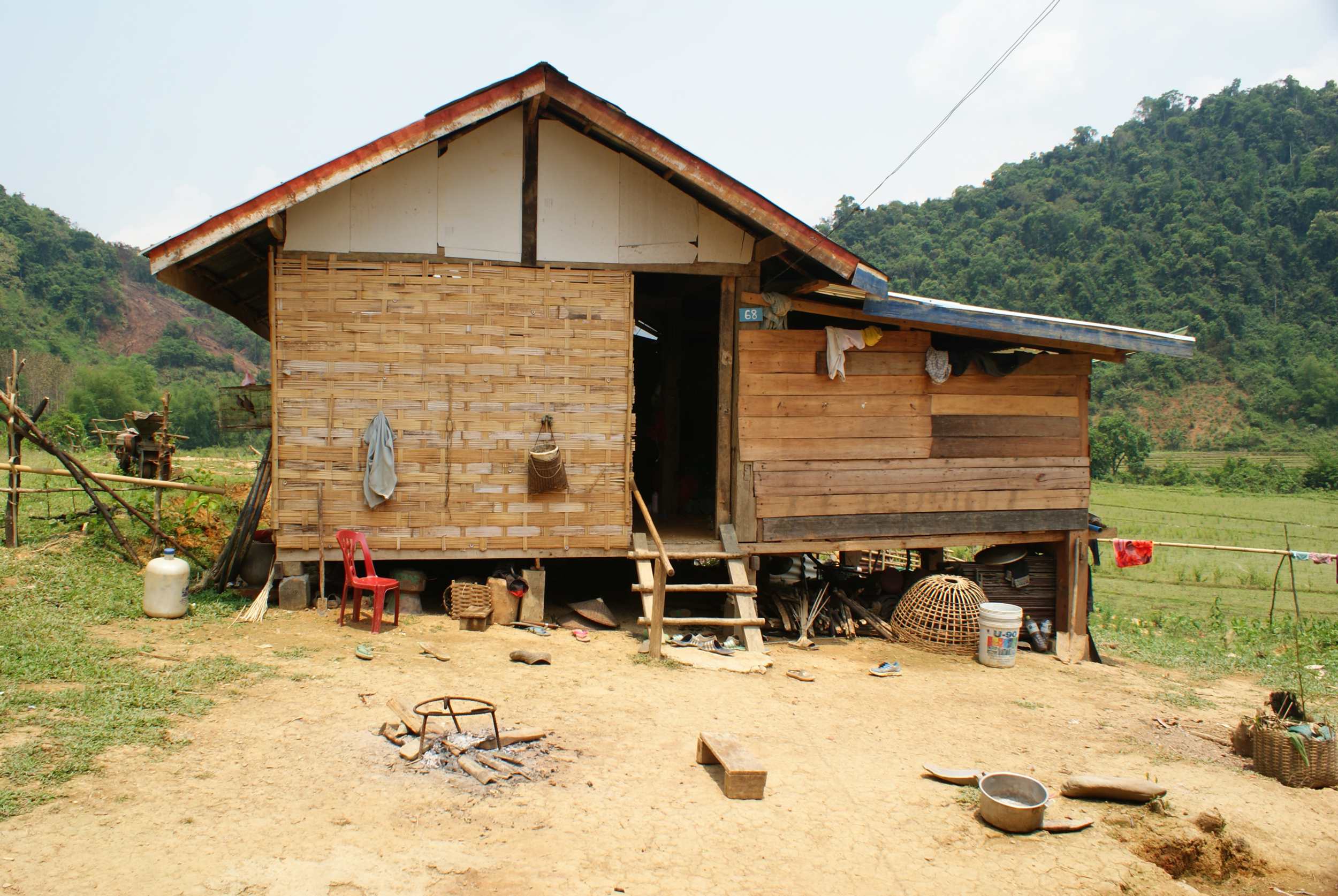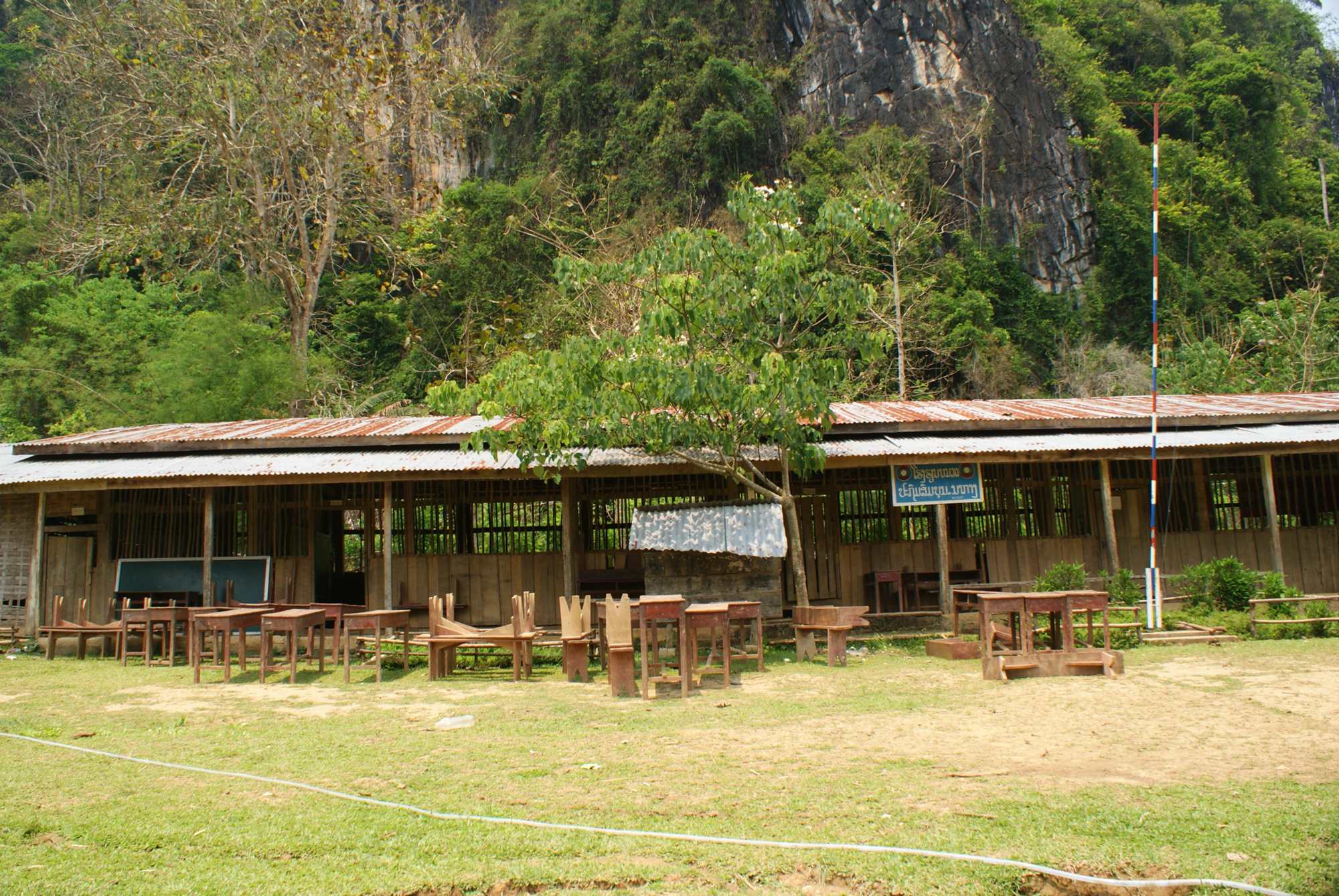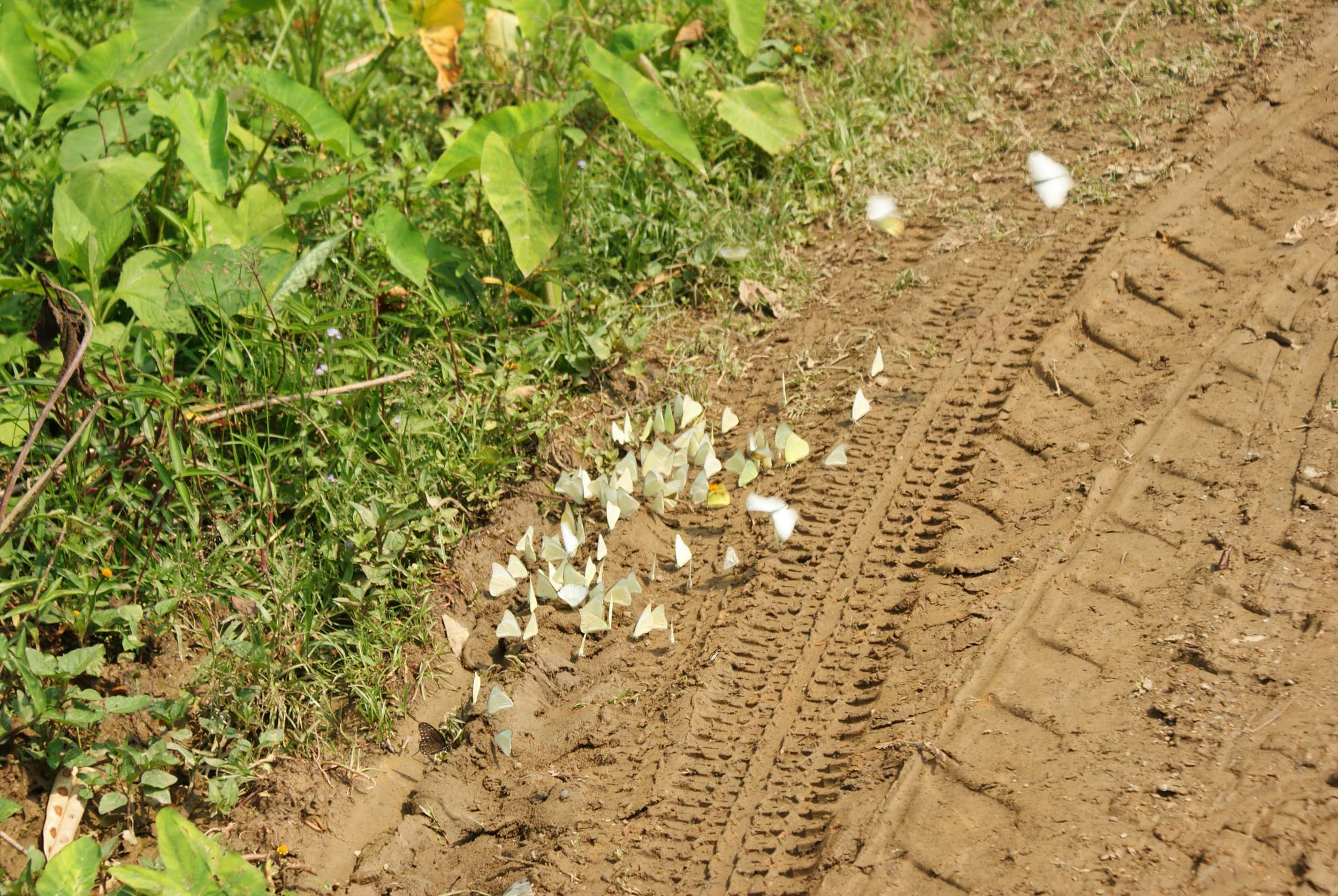 The next day we took a boat back to Nong Khiaw, where we stayed few days, exploring the surrounding steep hills! It got ever more challenging :) We bought a ticket for a boat in the early morning, ticket office is located very close to the pier what is indicated by the signs next to the road. We noticed there a empty shell of cluster bomb as a reminder and warning that millions of them are still killing hundreds of innocent people every year (the half of victims are kids, confusing the bombs with toys), after almost 50 years from the end of the this war. Muang Ngoy is nice place to relax, cool to come here for a few days to experience something different than hustle and bustle of big cities like Luang Prabang.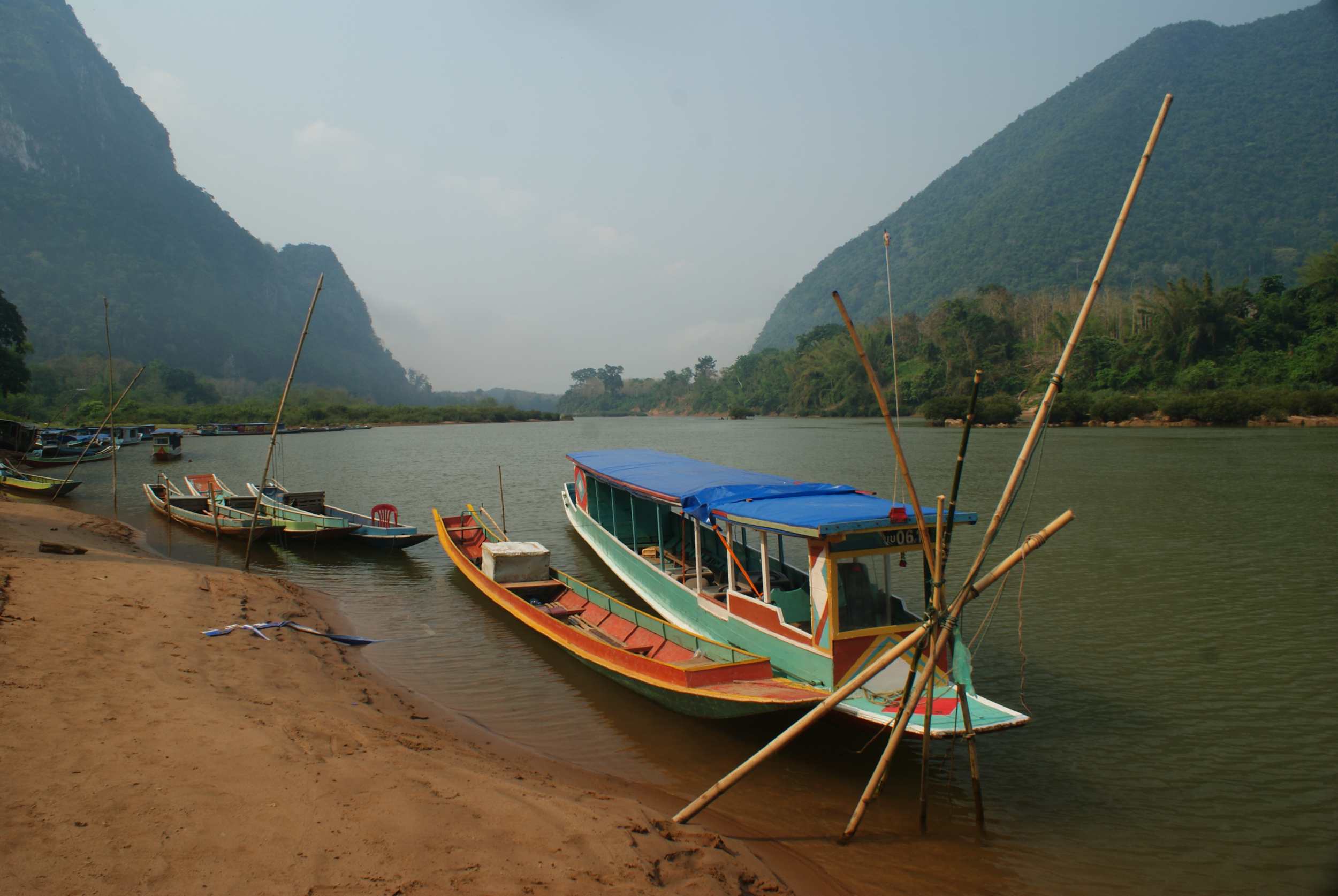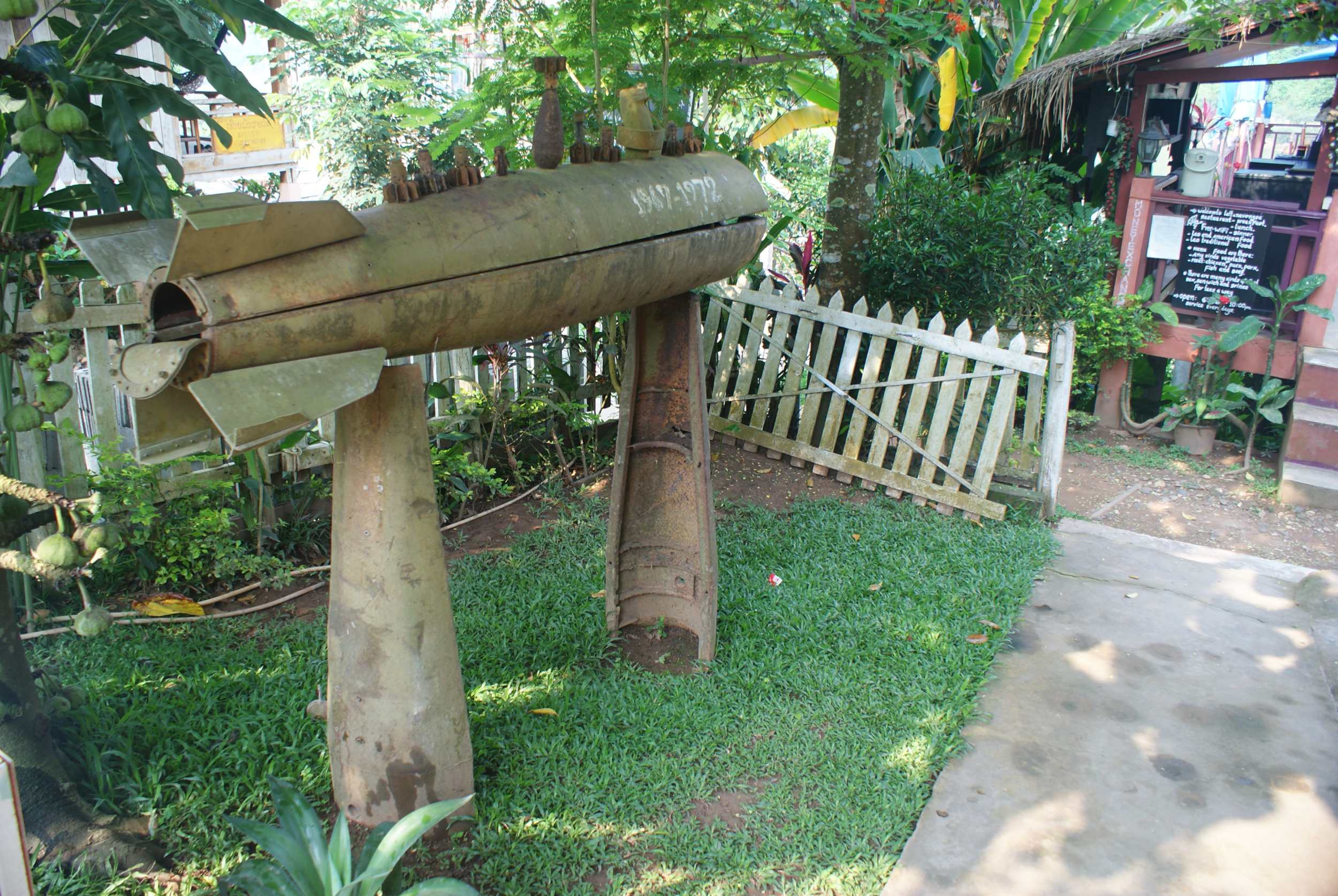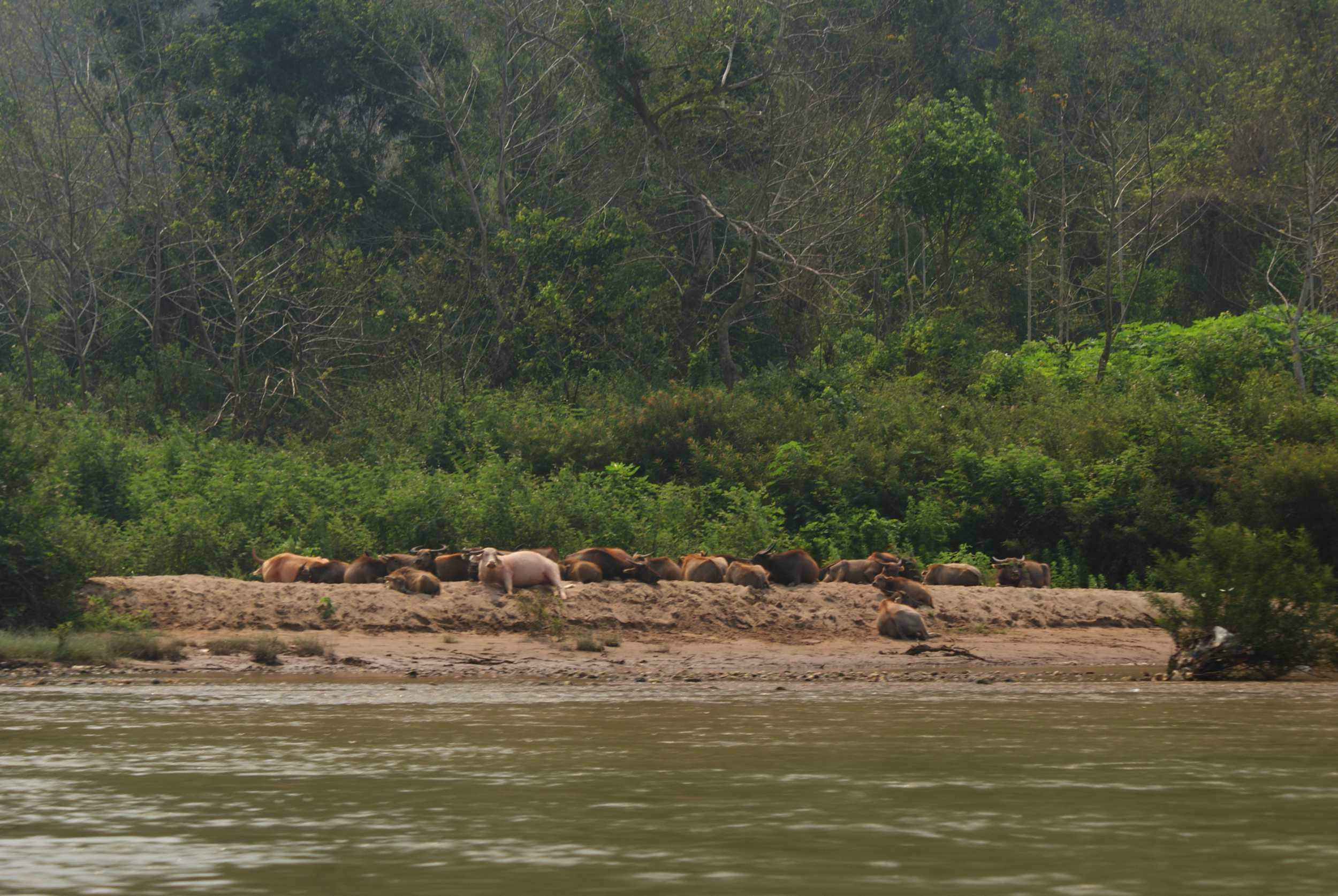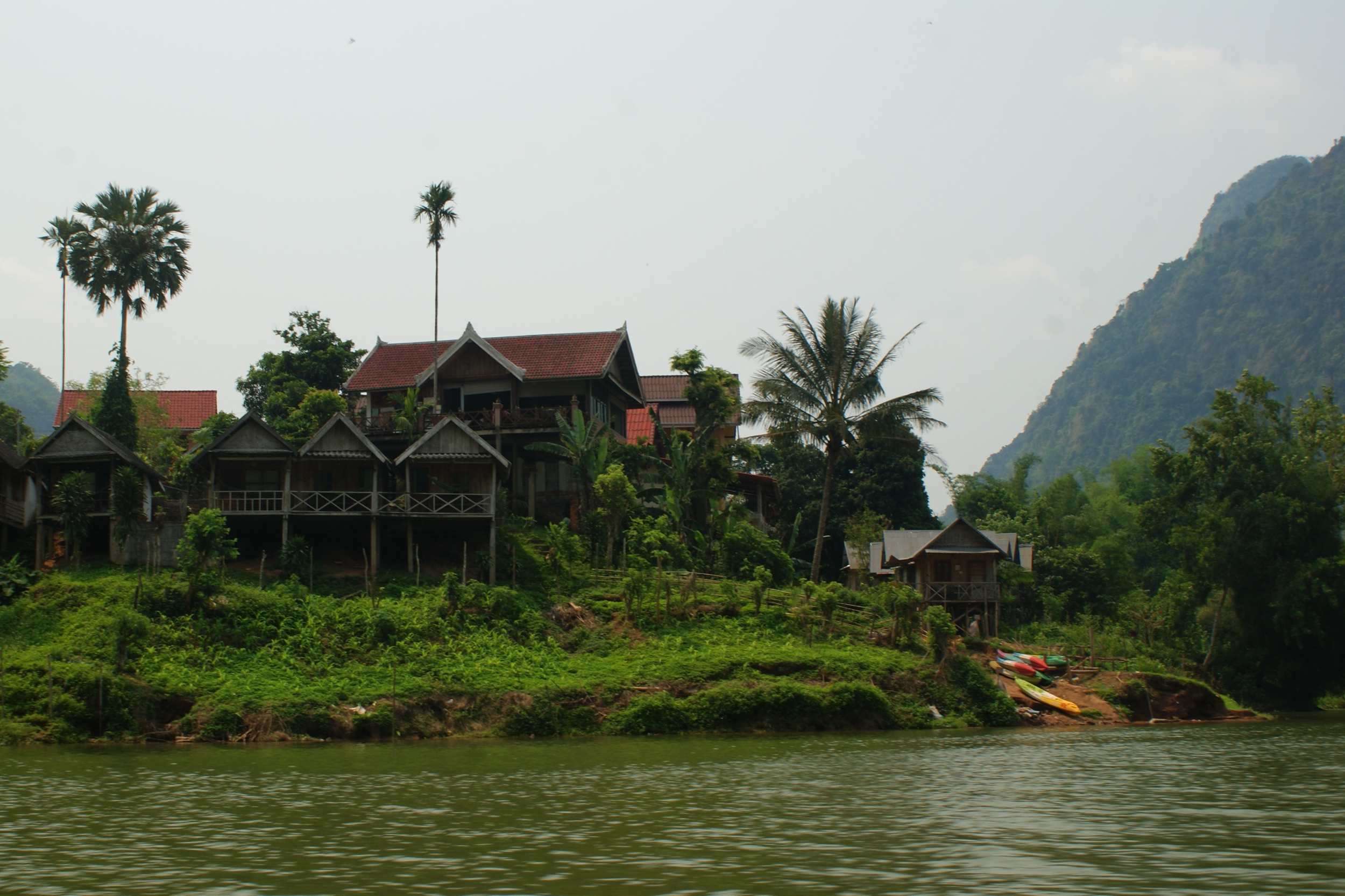 Practical info:
minivan to Nong Khiaw from Luang Prabang - 4h, 75k KIP per person
tuk-tuk from bus station to pier - 10k KIP per person (3km)
boat to Muang Ngoy - 50k KIP per person, 1h boat ride
entrance to the Phanoi viewpoint - 10k KIP per person
entrance to village Baani and cave - 10k KIP per person
lunch/dinner - 30k to 60k KIP for both of us, we definitely recommend Vita Restaurant
mango sticky rice - 15k KIP per person
bungalow - 70k KIP per night, Suan phao guesthouse